GlobalSign Domain SSL Certificate Reviews
GlobalSign Domain SSL Certificate Reviews 100% Verified by Real Customers
The GlobalSign DomainSSL Certificate is an easy and economical SSL solution for securing your website very quickly. DomainSSL certificate is a fully automated domain validated certificate, it means you can protect your e-commerce, webmail, logins, blog and more within a few minutes.
GlobalSign DV SSL Certificate enables HTTPS with a padlock icon in browser bar which ensures users and customers that the website is safe for surfing and web owner takes care of their user's privacy.
Features of GlobalSign DomainSSL
Strongest & Fastest SSL Encryption
Delivered in Minutes for Instant Protection
Increase Customer Conversions by Displaying a Site Seal
Global Device Support
Accredited Security Audits
Free SSL Tools
Best in Class Support
Cost Savings & Convenience Features
Boost your Google Ranking
Technical Specification of GlobalSign Domain SSL Certificate
Single Certificate Supports both domain.com and www.domain.com
SHA-256 Signed Certificate with 2048-bit Encryption Level
ECC (Elliptic Curve Cryptography) Support
Globally works with all mobile devices and web browsers
Free access to GlobalSign's SSL Server Test tool
Guaranteed USD $10k Warranty
Unlimited Reissue during the validity period
Install across Unlimited number of Servers
7 days Refund Policy
GlobalSign DomainSSL Compatibility
The GlobalSign DomainSSL Certificate is trusted by the most popular web browser, application, smartphone and mobile device. It doesn't matter what devices visitors use, will automatically trust your SSL security. It shows the industry standard padlock icon in the user's web browser.
How GlobalSign Domain SSL Certificate Looks in Different Browsers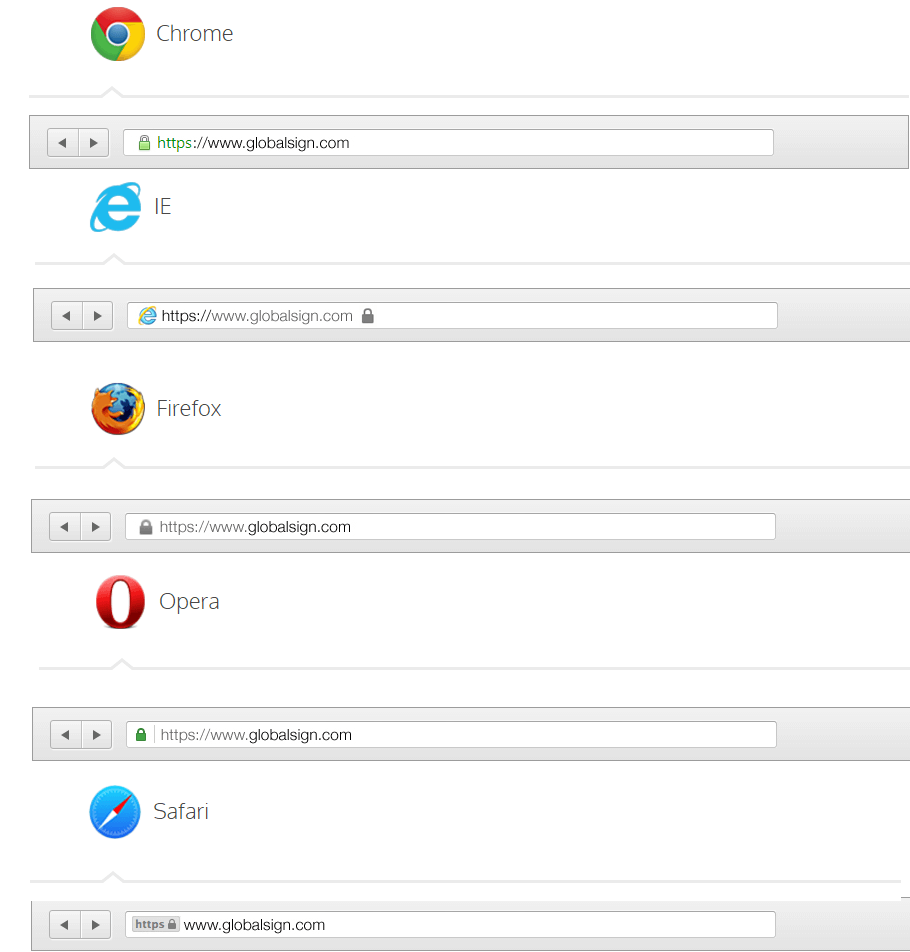 GlobalSign Support Rating & Customer Reviews

The most trusted SSL Certificate Authority GlobalSign issued more than 2.5M SSL certificates and more than 25M Certificates rely on their trusted root all over the world. GlobalSign® provides a user friendly technical support 24/7/365 which helps with customers to solve their query very quickly. GlobalSign® customers give them 4.8 stars out of 5 stars that indicates all about GlobalSign® products & services.