GlobalSign Extended SSL Certificate Reviews
GlobalSign Extended SSL Certificate Reviews by 100% Real Customers
The GlobalSign Extended SSL Certificate
is the highest level of SSL certificate giving more reliability to your website compared with an organization SSL or domain-validated SSL certificate. The validation process of the EV SSL certificate is very strict. In
the
validation
process, the website owner must be submitting legal documents of existing business as per the 
GlobalSign
Certificate Authority (CA). It takes 1-10 business days for issuance.
The Extended SSL enables the business name in the browser address bar that will indicate visitor's trust in your website and convert them into customers. Once, users visit your website, they can easily understand that website is genuine, trusted, and verified by GlobalSign CA and takes care of customer's safety very seriously.
Advantage of GlobalSign Certificates
Highest Class of SSL Certificate
Highest Level of Encryption Strength
Free SSL Tools with SSL Installation Checker, CSR Generation, and SSL Management
Compatible with all popular browsers
Industry Leading World Class Technical Support Team
Slightly boost up website ranking
Technical Specification of GlobalSign Extended SSL Certificate
Highest Level of 256-bit encryption with the 2048-bit encryption level
Displays Organization Name in the URL
Support Elliptic Curve Cryptography (ECC)
Secure both domain version www and non-www
Protect website from phishing scams
Many times Reissue during the validity period
Install across as many servers
$1.5M Warranty
Globally works with all mobile and web browsers
Free access to GlobalSign's SSL Server Test tool
7-day money back guarantee
How GlobalSign Extended SSL Certificate Looks in Different Browsers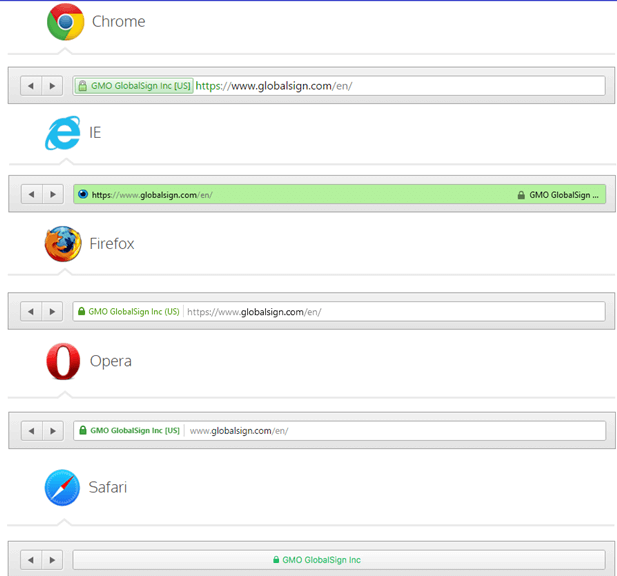 The EV Authenticated Organization Details Contains:
The Certificate details display your website is using EV SSL certificate including with the issuing Certificate Authority (CA), validity status and expiration date.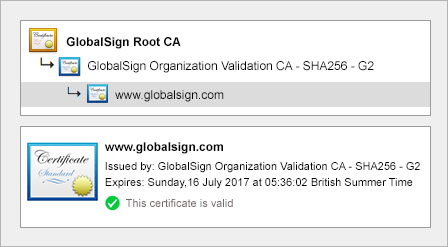 GlobalSign Trust Seal
The GlobalSign Site Seal is a "Mark of Trust" that can help to convert users into the customers. By enabling Trust Seal on web pages or website, it will increase the customer's trust and conversion rate over website while they are on payment page or shopping carts.

GlobalSign Extended SSL Certificate Reviews
The GlobalSign Certificate Authority achieved 4.8 stars out of 5 stars. The GlobalSign is a leading certificate authority and distributes over 2.5 million SSL certificates at all over the world. The GlobalSign gives 24/7 live chat, email or phone call support to customers for any query.
Excellent Work!
"We're just in the process of ordering so cannot comment yet on ease of management etc. However, Chris Page of GlobalSign has been more than helpful. Our situation was slightly unusual in that we were taking over a piece of software from another supplier and needed to start signing it with a different cert. Chris made it all simple and is even managing the timing of the switchover for us. Very satisfied at this point."
­– Jeff Kane
Very good
"I got a sponsored certificate for my open source project. Everything except a little bug was perfect but I got very fast support and a developer solved the problem very fast. Very good service! "
– Matthias Merkel