GlobalSign Organization SSL Certificate Reviews
Fully 100% Verified GlobalSign Organization SSL Certificate Reviews by Customers
The GlobalSign Organization SSL Certificate is a high assurance organization validated SSL certificate. It comes with strong SSL protection for your business website. This OrganizationSSL certificate verifies your domain ownership as well as a business identity which is operated by a genuine company during the validation process.
The GlobalSign OrganizationSSL Certificate enables the https with the padlock icon beginning of your website URL. GlobalSign Organization Validated SSL certificate includes the issuing CA name, validity status and the expiration date in certificate details. It assures visitors that the site is genuine and trusted by the GlobalSign Certificate Authority, also users understand that the site owner takes care of their data security very seriously.

The advantage of GlobalSign Certificates
High Assurance SSL Certificate
Strongest & fastest SSL Encryption
Trusted by every popular browsers
Free SSL Tools includes CSR Generation, SSL Installation and SSL Management
World Class Customer Support
Increase website ranking in Google
Technical Specification of GlobalSign Organization SSL Certificate
Up to 256-bit encryption
2048-bit encryption level
Elliptic Curve Cryptography (ECC) support
Secure www and non-www domains
Reissue as many times during the validity period
Install as many servers
$1.25M Warranty
Compatible with all browsers and mobile devices
Free access to GlobalSign's SSL Server Test tool
7-day money back guarantee
How GlobalSign Organization SSL Certificate Looks in Different Browsers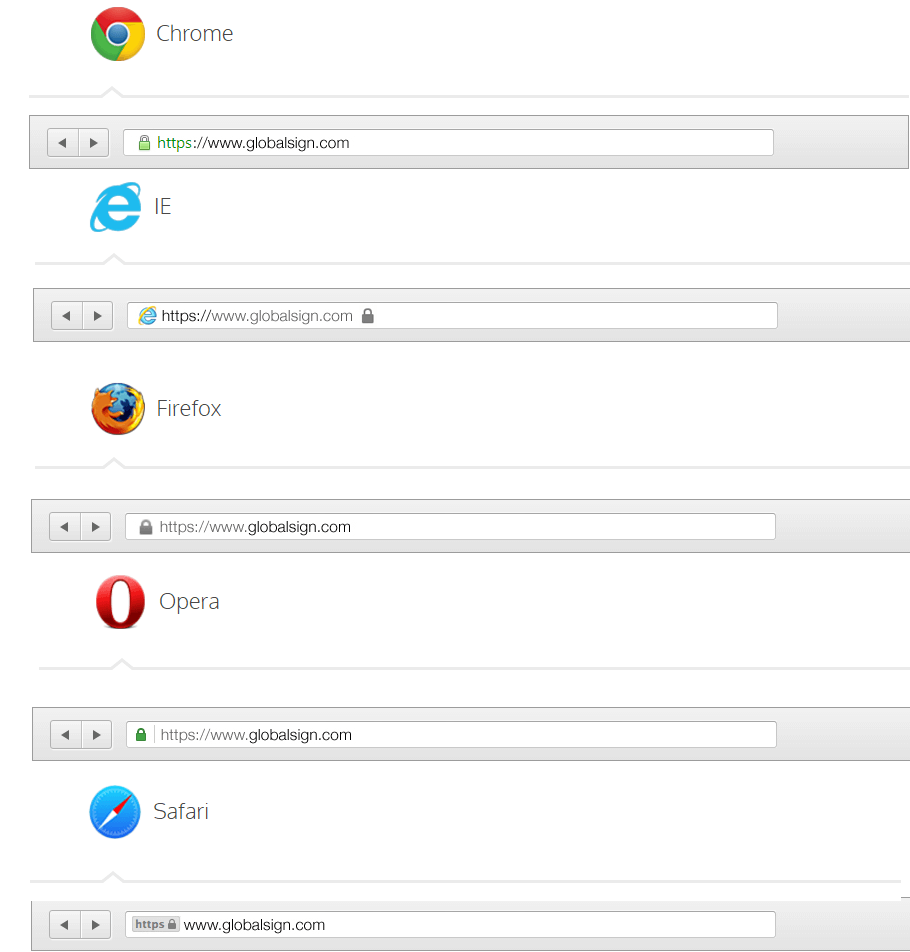 Authenticated Business Details looks like: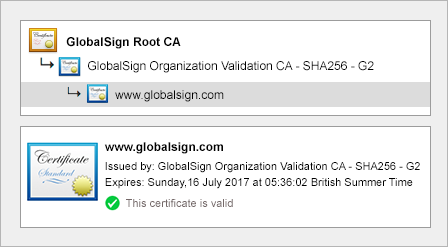 Why GlobalSign Site Seal
The GlobalSign Site Seal helps to convert visitors into the customers. The Secure Site Seal increases the customer conversion rate by displaying on websites or pages. The GlobalSign Secure Seal is a "trust mark" which enhance the confidence of customer's while they are at checkout, shopping carts and other web forms.

Customers Reviews & Ratings about GlobalSign Services
The GlobalSign Certificate Authority (CA) issues more than 2.5 million SSL certificates at worldwide. If you are not sure which SSL is best for your website, instantly talk to the GlobalSign SSL Specialist persons via Live Chat. The GlobalSign support department also available via phone calls or email support. The GlobalSign has achieved 4.8 stars out of 5 stars from their SSL customers.