Compare Popular SSL Certificate Providers
A Full Comparison and Reviews of SSL – OV SSL, EV SSL, and DV SSL Certificates
The rapid rise of cyber-attacks and awareness about cyber-security has turned users to adopt SSL certificates for their websites. SSL certificates play a major role in e-commerce, banking, and social platforms.
As per CA/B Forum, there are 48 Certificate authorities available in the World today. The major CAs are Comodo, RapidSSL, GeoTrust, Thawte, DigiCert, GoDaddy, Entrust, GlobalSign, etc. which are allowed by CA/B Forum to sign SSL certificates for websites to encrypt using digital signing technology. These certificate authorities are compatible with 99.9% the web & mobile browsers and all Operating Systems as well.
Where Should I Buy SSL Certificates?
To buy SSL certificate from any of above certificate authority, you just need to contact them directly, or else you can also approach their resellers. We conducted a deep study on prices of and we found the reseller's SSL prices to be lower compared to the CA's prices. We recommend buying the certificate directly from the reseller if budget is a concern (it always is!!).
Leading SSL providers described below offer different types of certificates. There are too many resellers available in the market but as per our experience, best amongst them are Comodo, GeoTrust, Thawte, GoDaddy & DigiCert. These SSL resellers have made their name by offering hefty discounts, giving 24/7 support and they have a very good refund policy.
Here we've analyzed all SSL certificate resellers and found some best among them. In below chart, you will find the names of best resellers, SSL Certificates they are offering, their certificate price range, refund policy, customer support, etc. If you are still not satisfied with our SSL selection then you should go to our SSL Wizard option to explore more.
Popular SSL Certificate Providers
Usage Statistics and Market Share of SSL Certificate Authorities for Websites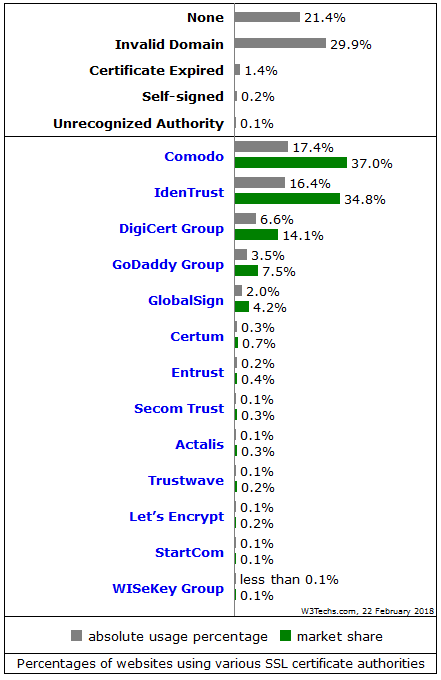 SSL at Budget Price
Easy to re-issuance
Free SSL Installation Tutorial
24/7 SSL Support
30-Day Refund Policy
Top SSL Certificate Providers Comparison – Choose the Best SSL Certificate
Main Features
Comodo Positive SSL
RapidSSL
Thawte SSL123
Sectigo Essential SSL
Certificate Authority
Comodo
RapidSSL
Thawte
Sectigo
1
1
1
1
$7.27/yr
$14.95/yr
$47/yr
$25.95/yr
www.domain.com,
domain.com
www.domain.com,
domain.com
www.domain.com,
domain.com
www.domain.com,
domain.com
Personal Websites/Blogs
Personal Websites/Blogs
Personal Websites/Blogs
Personal Websites/Blogs
Domain
Domain
Domain
Domain
Within Minutes
Within Minutes
Within Minutes
Within Minutes
up to 256-bit
up to 256-bit
up to 256-bit
up to 256-bit
2048 bits
2048 bits
2048 bits
2048 bits
Medium
Medium
Medium
Medium
Domain name displayed on certificate details
Domain name displayed on certificate details
Domain name displayed on certificate details
Domain name displayed on certificate details
Unlimited
Unlimited
Unlimited
Unlimited
$10,000
$10,000
$5,00,000
$10,000
30 days
30 days
30 days
30 days
99%
99%
99%
99%