What Questions should I Ask to SSL Providers before Buying an SSL Certificate?
Want to Know If an SSL Provider Is The Right One For You? Well, Ask Them These Questions
It's 2023,
and your website needs one thing more than almost anything else – an S
SL certificate
. Fortunately, as you've landed on this page, you understand this. But this isn't where your confusion ends; it's where it starts!
Now that you're at the stage where you want to get an SSL cert, you must have a ton of questions and concerns in your mind. To be honest, you have every right to have these concerns because it's the security of your site at stake here.
Therefore, before you make a decision about where to purchase your SSL cert from, you must ask your potential providers some questions that will help you understand if they're the right fit or not.
Let's ask!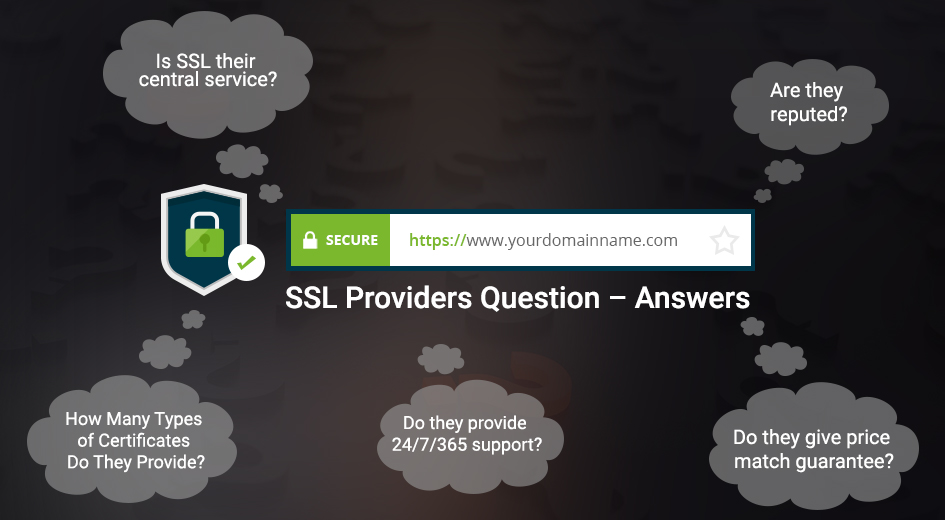 1. Is SSL Their Central Service?
There are hundreds of places from where you can buy SSL certificates. It's pretty easy to get confused amongst them. But some of these platforms that don't have SSL certificate as their primary focus, they're into some other business such as hosting or DNS.
As their prime focus isn't SSL, it's very unlikely that they'd serve you with proper expertise and provide you right support. So, ask them if SSL is all they offer. If they don't, we'd suggest you look somewhere else.
2. How Many Types of Certificates Do They Provide?
One shoe doesn't fit all, does it? The requirements of a CEO of a billion-dollar e-commerce business isn't the same as of a blogger. They both need different types of certificates. That's why it's a must for an SSL provider to have a wide range of products.
3. Do They Provide 24/7/365 Support?
In the pursuit of getting that highly sought-after padlock, one has to go through some serious intricacies. And if you're a first timer, it could get bad, really bad! That's why support team exist you know! If a problem occurs, you might need to contact them in the middle of the night. That's why asking if they provide 24/7/365 support is one of the most crucial questions you can ask.
4. Do They Give Price Match Guarantee?
There are many SSL providers providing price match guarantees. It means that if you find the same certificate getting sold at a lower price somewhere else, they will give you discount to take the price down. Great, isn't it?
Okay, you don't ask them if they're reputed or not. It's stupid, right? But you can ask Google; you can see their customer testimonials on our site, you can check them on Shopper Approved – there are many ways to do so. You can also check our SSL certificate reviews to get a clear idea. You can also check our SSL certificate reviews to get a clear idea.
Last bit of advice
It's easy to get confused when you're presented with so many options, right? To your rescue, with our years of experience and expertise, we've come up with a list of top 10 SSL certificate providers 2018 in the world. So, what are you waiting for? Buy one for yourself and get that padlock emblazoned on your site!