The Best Cheap Wildcard SSL Certificates
Compare Trusted SSL Brands Wildcard SSL Certificates
Wildcard SSL
, an additional SSL certificate feature offered by the certificate authority which lets users secure a unlimited number of sub-domains of First level. For example, if user has purchase wildcard SSL Certificate for
*.domain.com
, he can secure any number of its sub-domains. Wildcard SSL certificate comes up with both domain validation and organization validation option.
The Limitations of Wildcard SSL certificate is, the user can only secure first level domain name for which the certificate is been installed. For example, if the user has purchased SSL certificate for *.domain.com then he can secure a unlimited number of domains (For example abc.domain.com) which is called as first level sub-domain security.
Now if the user wishes to secure his sub-domains as "xyz.abc.domain.com" with the same certificate, the Certificate authority will not allow doing this. In such case the user needs to buy the Wildcard SSL certificate for (*.abc.domain.com), This will allow the user to secure any number of sub-domains for that domain (For Example xyz.abc.domain.com). This is called as second level sub-domain security which is wildcard SSL certificates' limitation, the user cannot go into deep like third level sub-domain security.
Wildcard SSL can secure
Domain.com
www.domain.com
Blog.domain.com
Question.domain.com
Login.domain.com
Checkout.domain.com
Anything.domain.com
Why Wildcard SSL Certificate?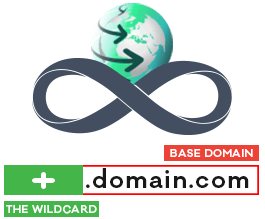 As it lets user to secure unlimited number of sub-domains under single certificate, it saves valuable time for managing certificates and money as well. Though it secure multiple sub-domains, but their price is not so high. Many SSL resellers avail it at cheapest ever price with heavy discount.
A user can validate his domain name and business as well using a wildcard SSL certificate, but a wildcard SSL is not available for Extended validation. So for security of e-commerce business user should go with EV SSL certificate option. A user can add a WildCard SSL domain in a Multi domain SSL option, but it will not allow to add a multi-domain (FQDN) in a wildcard SSL. Few old mobile operating systems such as windows 5 is not understand * character of a wildcard domains, which display an error while browsing for that domain, so to use wildcard SSL in older platforms it is better to go with a combination of wildcard & multi-domain called as Multi-domain wildcard option. To secure a domain and its sub-domain if a user uses single private key and CSR; in case of breaches the domain and its sub-domain gets affected. So it is better to generate a new wildcard SSL with the use of unique private keys.
Pros and Cons of Wildcard SSL Certificates
Pros:
Unlimited number of sub-domains security
Pay less, Secure more
Easy to manageable
Cons:
Not able to secure Multi-Level Sub-Domains
Not available in Extended Validation option
Learn more about Wildcard SSL certificate and Compare wildcard SSL Certificates.
List of Best Cheap Wildcard SSL Certificates
Main Features
Comodo Positive SSL Wildcard
Thawte Wildcard SSL
Sectigo EssentialSSL Wildcard
GeoTrust True BusinessID Wildcard
Certificate Authority
Comodo
Thawte
Sectigo
GeoTrust
1 + all one level sub-domains
1 + all one level sub-domains
1 + all one level sub-domains
1 + all one level sub-domains
$72.31/yr
$349/yr
$87.33/yr
$384/yr
domain.com,
www.domain.com,
login.domain.com,
mail.domain.com
domain.com,
www.domain.com,
login.domain.com,
mail.domain.com
domain.com,
www.domain.com,
login.domain.com,
mail.domain.com
domain.com,
www.domain.com,
login.domain.com,
mail.domain.com
Personal Websites/Blogs
Small/Medium Businesses
Personal Websites/Blogs
Small/Medium Businesses
Domain
Organization
Domain
Organization
Within Minutes
1-3 business days
Within Minutes
1-3 business days
up to 256-bit
up to 256-bit
up to 256-bit
up to 256-bit
2048 bits
2048 bits
2048 bits
2048 bits
Medium
High
Medium
High
Domain name displayed on certificate details
Business name displayed on certificate details
Domain name displayed on certificate details
Business name displayed on certificate details
Unlimited
Unlimited
Unlimited
Unlimited
$10,000
$12,50,000
$10,000
$12,50,000
30 days
30 days
30 days
30 days
99%
99%
99%
99%