CodeGuard Review – Cloud-based Website Protection Solution
Know Everything About CodeGuard
CodeGuard, the global leader in website maintenance, disaster recovery, and backup, is the subsidiary of Sectigo like Icon Laboratories, Inc, and Comodo Japan Inc. It's a business solution, which allows its users to reverse damages caused by cyber-attacks, impacts of development issues, errors of content management, or server crashes. Let's dig into this fastest and reliable website backup solution CodeGuard & explore whether it's a win-win situation for a user or not.


CodeGuard Backup, CodeGuard's solution, is one of the fastest, reliable, and an automatic database, and website backup solution which works behind the scenes daily to take backups while saving each of them separately. It's one of the cloud-based solutions that offers backup, monitoring, and malware remediation services for small and medium businesses with 99.9999% reliability. It also notifies about any changes and comes with an option to restore it to the previous version.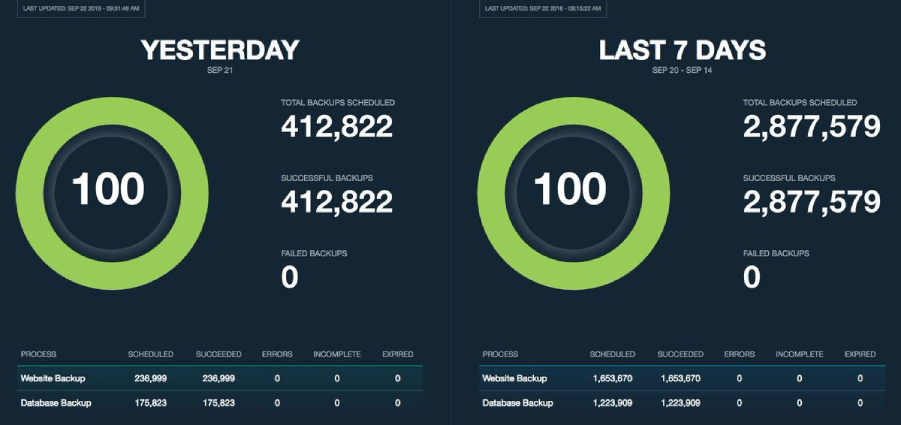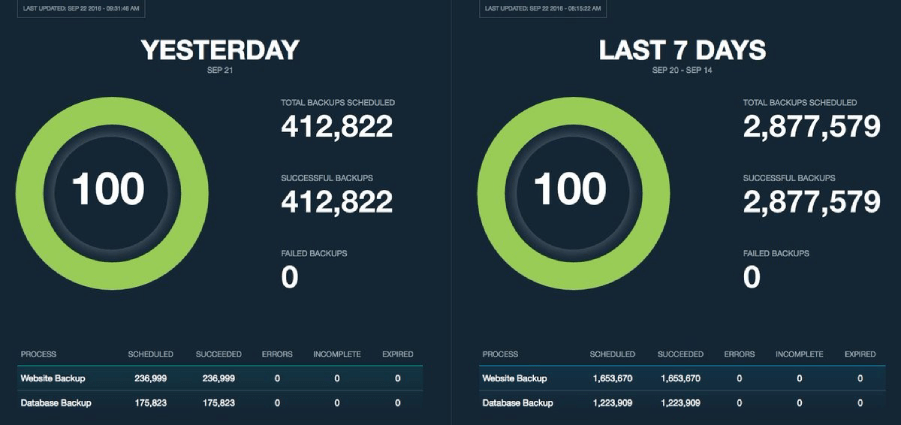 Features of CodeGuard Backup Solutions
Through our CodeGuard review, some of the features which kept our interest are:
Provides daily backup of the website, files, and databases
ChangeAlert™ – A Website change detection notification
On-demand access and reports on a client portal
256-bit AES encryption standard to protect your files
MalwareGone™- To detect and remove malware automatically
Email backups via APIs
Automatic WordPress plugin, which automatically updates your plugins and if updates fail or don't work correctly, it also rolls them back
Works with all web hosts
Fully featured API to customize CodeGuard experience for your customers or to integrate features into your UI
Simple to use migration service to migrate or move your website
Staging servers to test an old website or any back up of a site, before pushing it towards production
Backup for Entire Website with Database and Files
At some point, the website does go down due to server issues or technical errors. And the worst thing is the lack of adequate website backups to get the job done and to minimize sales disruption or downtime. Here, CodeGuard helps by taking backups of your entire website, including files and databases like MySQL or MSSQL, while allowing you to focus on making website improvements rather than worrying about your website backup.
Instantly Restore Website
There's always a chance of errors occurring while editing a live website or solving a mistake made by a co-worker. Don't you think it would be great if you can revert it by just pushing a button and turning it to its original form? Now, with the help of manual, automatic, or selective restore options, you can do so with the CodeGuard Backup solution.
If you're not sure or not experienced enough to back up the website, no need to worry. CodeGuard Backup provides an FTP/SFTP connector, mobile app, and also WordPress plugin for backup. So, whether you're an experienced webmaster or a novice, you can instantly do a backup by choosing the right method depending on your abilities.
Instant Alert of any Change Made on a Website
ChangeAlert™ provided with CodeGuard is a notification feature that helps by informing you of any change that occurred on a website. For example, changing or removing a backup file. So, you can stay aware of what happened.
Supports All Major Platforms
One of the best things about CodeGuard Backup is that it's compatible with majority of websites or platforms without any problem. Some of the CMSs (Content Management Systems) it supports are:
Note: By purchasing a CodeGuard Backup, your account is not tied to any specific hosting provider. It's up to you whether or not you want to switch hosting providers without losing any saved backups!
99+ Percent Trust & Reliability
No one likes to depend on unreliable products and services. And CodeGuard Backup provides you the reliability you seek from any genuine service or product. Also, it's known for performing at its highest levels while determining the main cause of any connectivity problem for remediating the issue.
How Does a CodeGuard Backup work?
CodeGuard Backup involves four simple steps.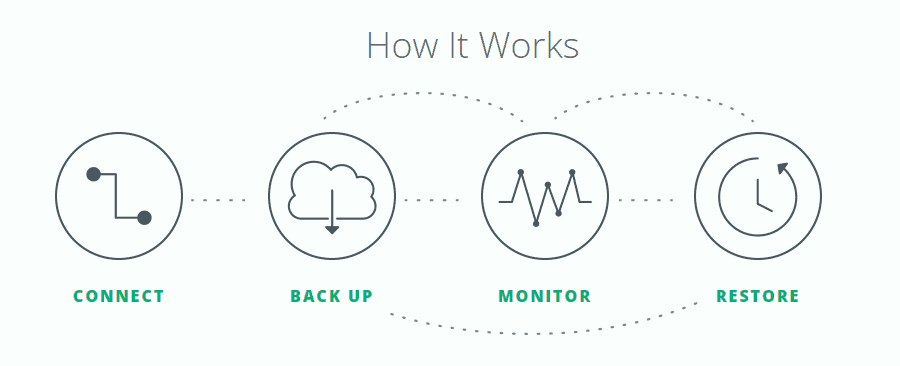 First, it seamlessly connects your website and database. To do this, it requests some credentials to make it up and running.
Once the connection with the website is achieved, it starts keeping track of all the changes made on the site. After the initial backup, future backup is done, it saves the backup in the storage space with the changes made. However, it's up to you as to how long you want to maintain that backup history. By default, it saves a website for about 90 days with the option of keeping your entire backup history.
CodeGuard backup doesn't let anything slip away. It detects all the changes and starts giving notifications instantly. Also, the settings are controlled by users, so it only provides an update on the essential things. Also, any change or removal done in every version can be viewed on the website dashboard.
MalwareGone™ helps in removing persistent threats from your website with the help of prior backups stored in CodeGuard's cloud. Additionally, it also alerts if there's any virus, spyware, trojans, rootkits, or malware.
CodeGuard backup comes with an intelligent restore option, which helps users by protecting it from malicious hacks and internal mistakes. It also provides a repository where you'll be able to find a complete backup along with detailed information and a date stamp on every change.
Solve Problems at a Faster Rate
Through ChangeAlerts, it reduces the time spent on finding the root cause of issues created by the clients. With the one-click restore option, you will be able to decrease the time dramatically.
Increased Revenue
Make additional revenue by reselling the service to clients. For example, activating the client's website with the CodeGuard Backup by adding it as a line item while first building it or while updating a website.
Protect Clients
Many times, clients create an issue with their own mistakes, such as deletions of files, overwriting, or any simple error instead of malicious hackers and malware insertions. Through CodeGuard, you will be able to protect your clients from their own mistakes.
Bottom Line Protection
It helps in preventing costs rocketing out of control by forming a clear responsibility for the issues presented by clients. Also, it helps in lessening the workload by getting into an agreement with the client that you're restoring the issues which are beyond your control.
If you're a reseller or a hosting provider, you can choose to provide CodeGuard backups, which will work as an additional security measure for your customers. Through CodeGuard, you will be able to gain additional trust of your customers, and also CodeGuard provides affordable off-site monitoring and backup. CodeGuard is an easy-to-install service that comes with cPanel plugin.
Further, in our CodeGuard review we noticed, some of the services provided by CodeGuard, which can be helpful to clients as well as individual site owners.
Automatic backup and extra features to monitor a website
Notifications through Change Alert
Detailed backup reports in the dashboard
Multiple options to restore
24×7 support
CodeGuard: Plans & Pricing
CodeGuard is for all; freelancers, small businesses, large firms, and agencies. Currently, the following plans are available.
Pricing
Plans For Every Need
Basic
Single Website

1 GB Storage

Unlimited Backup Retention

Daily Automatic Backups
Professional
Up to 5 Websites

5 GB Storage

Unlimited Backup Retention

Daily Automatic Backups
Premium
Up to 10 Websites

10 GB Storage

Unlimited Backup Retention

Daily Automatic Backups

Backup via WordPress Plugin
Business
Up to 100 Websites

100 GB Storage

Unlimited Backup Retention

Daily Automatic Backups

Backup via WordPress Plugin
As per our CodeGuard review, we would say that the Basic Plan will be the best option for students looking for a personal project or for anyone who wants to test the service. If it's a freelancer such as a single person agency or someone who works on in-house projects, the Professional subscription is recommended. If there's a team that works on smaller websites and have few clients, then Team subscription is advisable. Also, the Business subscription is a good option for web apps, complex websites, global brands, agencies, E-commerce websites, or someone with various departments.
CodeGuard Frequently Asked Questions (FAQs)
What is CodeGuard?
CodeGuard is a service which offers an automatic backup of database/website. It monitors the website/database regularly and if any change is detected, it will notify about the same, while making the backup. It also allows restoring the website database/website to its previous version.
Does CodeGuard offer a Free Trial?
Yes, CodeGuard offers a free 14-day trial version. Just signup and click on the button, "Start My Free Trial." And, if you don't like their service, you always have the option to cancel the account within the first 14 days of registration and you will not be charged.
How secure is CodeGuard?
CodeGuard relies on the best industry practices for protecting its customers' data. All backups and passwords are encrypted with secure connections (SFTP/SSH/SSL), and also an independent agency conducts a vulnerability testing annually. Till date, not a single data breach or attack on CodeGuard has been reported.
Are the backups made by CodeGuard encrypted?
CodeGuard stores its data on AWS (Amazon Web Services) utilizing Server-Side Encryption (SSE). Here, AWS handles management and protection of the key for CodeGuard, with the help of the strongest cipher 256-bit AES (Advanced Encryption Standard).
How CodeGuard stores passwords?
CodeGuard stores two different types of passwords in its system. Passwords of customer accounts to log into the CodeGuard account and the credentials of customer servers such as FTP/SFTP, MySQL are stored separately. Here, passwords of the customer accounts are stored using a one-way salted hash. Also, the passwords are stored in Amazon's Relational Database Service (RDS) using RSA 2048-bit key encryption.
What type of Database does CodeGuard back up?
Currently, CodeGuard is compatible with two different databases, MySQL and MS-SQL. Also, they are compatible with various database storage engines, such as MyISAM and InnoDB of MySQL, community developed MariaDB, a fork of MySQL.
Some of the databases that are not compatible currently are MongoDB, PostgreSQL, and SQLite. Also, connections for MySQL databases are provided directly through MySQL connections or tunneling over SSH, and connections of MS-SQL are made directly through MS-SQL databases.
Does CodeGuard have a WordPress Plugin?
Yes, CodeGuard offers a WordPress plugin for daily backups of a community-developed website/database for an automatic restore. Also, it takes less than a minute for setup.
What type of Credentials will be needed to add a Website?
To add your website in CodeGuard, you will need below information:
URL of the Website
Hostname/IP Address
SFTP/FTP Username & Password
Port Number
Root Directory
What type of database permission is needed by the user to backup and restore in CodeGuard?
The database user specified in CodeGuard must be granted some permissions. Also, it's recommended to grant permission of both back-ups and restore actions to the user.
Permissions needed for a backup are Select, Show View, and Show Databases. And, for restoring Select, Insert, Update, Create, Alter, Drop, Index, and Delete.
I already use my hosting provider's backup. Won't that protect me?
Not always. Generally, hosting companies store backups along with your primary files at the same place. So, why not make it a bit secure and keep your backup offsite, 100% independent from your hosting provider.
Will CodeGuard work with my blog or website platform?
Yes, CodeGuard works in the same manner irrespective of the platform you use. It supports all the popular CMSs (Content Management Systems) like Joomla, WordPress, Magento, Drupal, and much more.
Also, if the platform you use meets the below mentioned criteria, CodeGuard can be used to backup your database and website:
✓ Access to FTP/SFTP credentials of your website to connect with CodeGuard
✓ The website must be using MS-SQL or MySQL databases
✓ User must be able to whitelist the below mentioned CodeGuard IP addresses so that it can connect with your database remotely:
54.174.115.171
54.174.153.212
54.236.233.46
54.174.91.34
54.236.233.28
A lot of time is spent on making a positive web presence and it's obvious that protection is needed to maintain it. And, through our CodeGuard review we can say that it's one of the best ways to provide security. It's one of those services that will help you ensure your website is backed up daily. It has a simple to use interface where you can set up your backup. Also, an email reporting daily changes made on your backups is sent to you to keep you aware of the changes.