Comodo cWatch Review, Features & Pricing
People have heard promise after promise when it comes to online security. Numerous claims like, 'a new application is here to protect you from all the latest malware, breaches, phishing or ransomware attacks.' Every time we hear something innovative has come to the market to stop cybersecurity loopholes, a new cyber-attack comes into existence to thrash us at the same starting point.
Unfortunately, the promise of these innovative new products is rarely realized. The harsh truth is that five times more cyber-attacks are occurring today compared to the last ten years. Nowadays, cybercriminals are more sophisticated and better funded, which more than evens the odds against the cybersecurity "innovators" with their defensive techniques and solutions. Around $75 billion was spent on cybersecurity in 2015 alone with projections reaching around $170 billion by 2020. But, despite spending these staggering amounts, companies still face the threat of breaches and with high frequency.
In an era where the internet is ubiquitous, traditional cyber protection tactics are failing and cybersecurity companies needs to become more proactive. Numerous companies and organizations are on the cutting edge of proactive cyber defense with their innovative ideas. And at the forefront is COMODO Group, one of the leaders of cybersecurity industry, with its cWatch web security service.
"After multiple blunders caused by website security issues, such as the Equifax hack, have dominated the headlines recently, companies need to be more diligent than ever. Protecting websites is mission-critical."
This malware removal service is a great first step, allowing companies of all sizes to return their websites to a safe state for no charge. Businesses looking to choose proactive prevention over reactive detection and remediation can guard their sites from hackers with cWatch Web."
In the simplest terms, Comodo cWatch is a complete security solution for websites and web applications in the form of a security-as-a-service product. It monitors and detects threats before they have a chance to wreak havoc on your websites, databases or critical web applications.
Comodo cWatch Web Security Stack: The Best Malware Removal Tool
Comodo cWatch Web Security is a part of the cWatch Platform. It takes the security of web applications to a new level by managing a Web Application Firewall (WAF). Its specially designed with monitor business websites, applications, and their underlying operating systems. Its launched in two variants free version, which as a website malware checker and a paid monitoring service known as cWatch Web.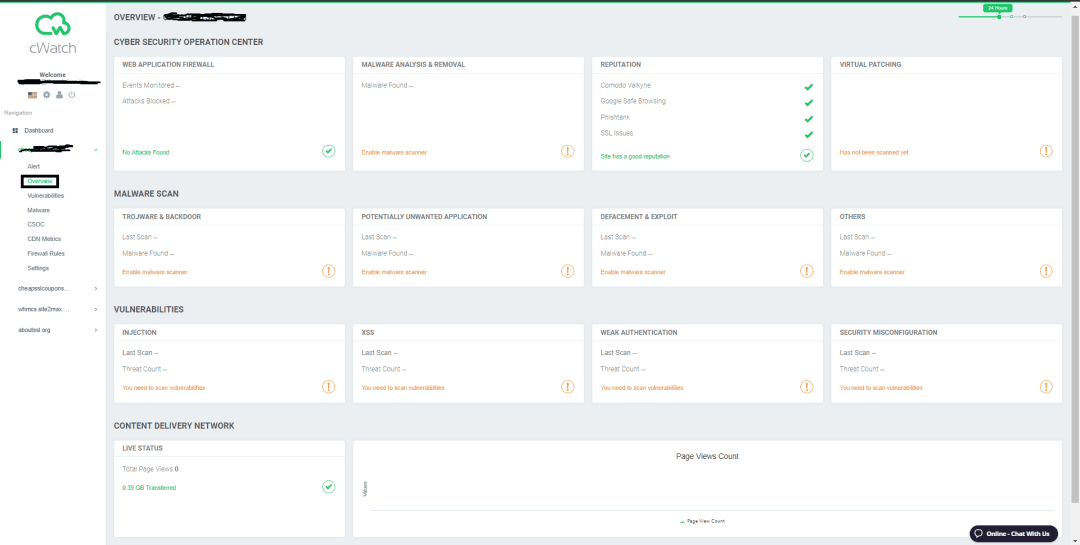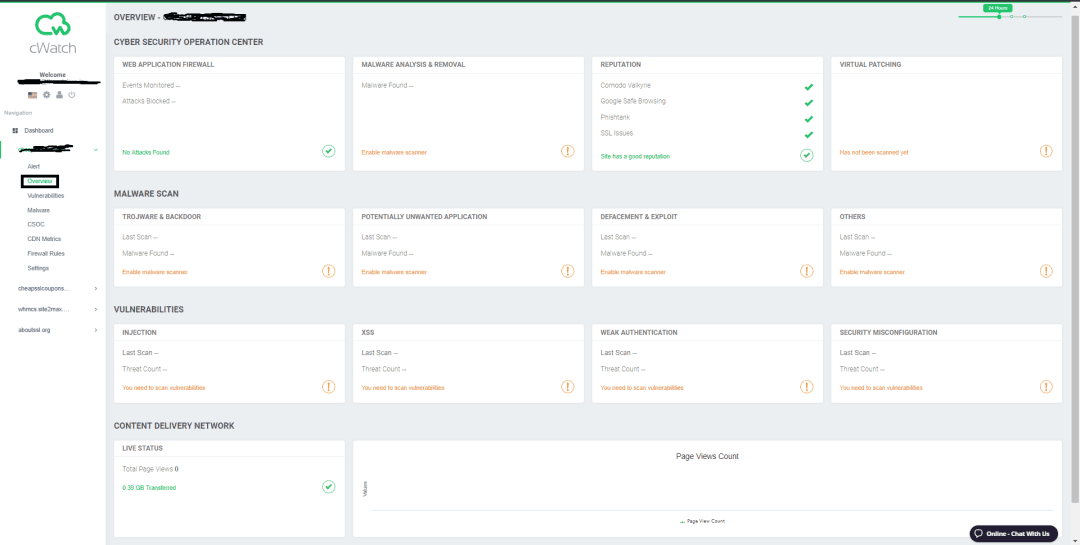 In other words, Comodo cWatch Security Service includes a Web Application Firewall (WAF) supplied over a Secure Content Delivery Network (CDN). It's a fully managed security solution that works 24x7x365 days. It's backed by a well-equipped certified security staff at Comodo's Cyber Security Operation Center (CSOC) and a Security Information & Event Management (SIEM) powered by data from more than 85 million endpoints – fully capable of detecting threats before they impact your site.
In addition to this, the service also includes detection, scanning, and removal of malware which helps organizations to be proactive in protecting their business & brand reputation from cyber-attacks.
Features & Benefits of cWatch Web
Some of the best features you can expect from this astounding cWatch Web are:
24×7 SOC
Manageable web application firewall (WAF)
Real-time content delivery network (CDN)
Detection of SIEM threat
Instant removal of detected malware & vulnerability
Repairs for hacked website
Removal of blacklisting
A daily scan of malware & vulnerability
Acceleration of Website
Protection against DDOS & BOT
One of the biggest benefits of cWatch is how much money it can save companies and organizations, it would be cost-prohibitive for many websites to field their own technical safeguards and a seasoned security team. cWatch delivers all of that for pennies on the dollar. It also manages your entire security investigation process & monitors the cloud, on-premises and hybrid environments, which helps you reduce costs even more.
Problems cWatch Web is looking to Solve
Companies and organizations deal with many different pain points, here are some of the ones that cWatch web can solve:
'My Website is infected with malware.'
'Received a malware alert on Google Webmaster Tools'
'My website is blacklisted.'
'My website is loading slower than usual.'
'There is a warning about my site on Google'
'My site is sending emails on its own.'
'My hosting provider shut down my site due to malware.'
'I see strange files and folders.'
'Strange redirects are happening on my site.'
'My site is not loading.'
If you don't know what you're looking for you can't be sure whether one of the problems is occurring or all of them. Fortunately, Comodo is offering a free website-check to customers.
The Workings of cWatch Web
Though it offers a robust suite of features, cWatch Web is actually quite user-friendly. Let's take a look.
Once you get registered (Free or Paid), you have the login details. Go to the cWatch Customer Portal to enter your username and password.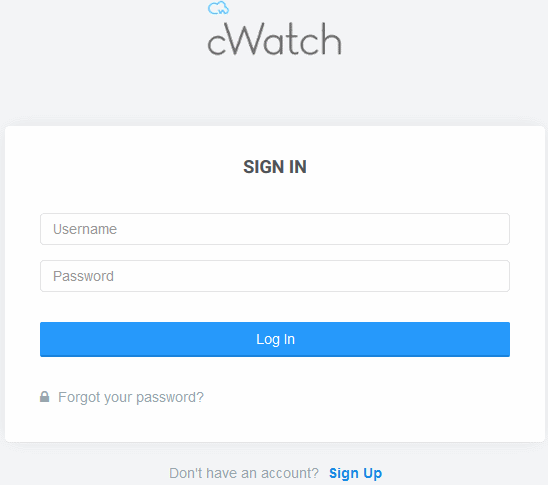 Once, you log in. You will see the dashboard. Something like this: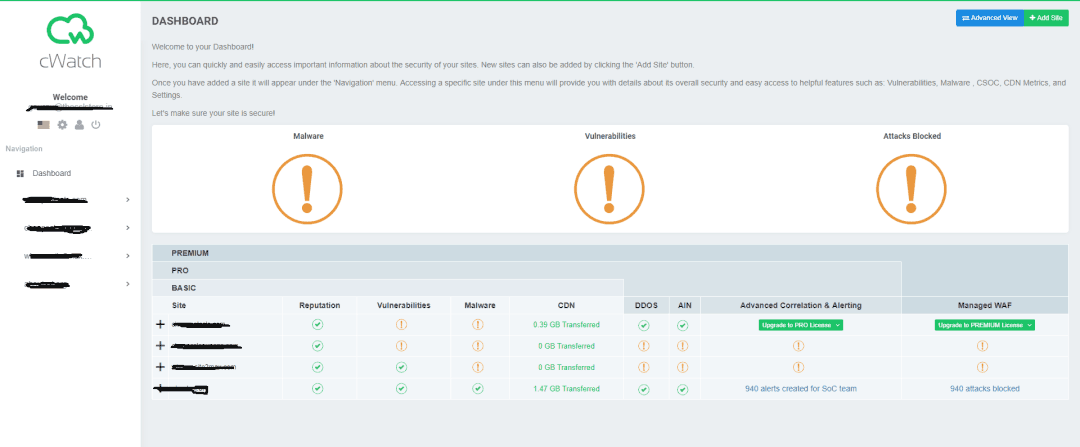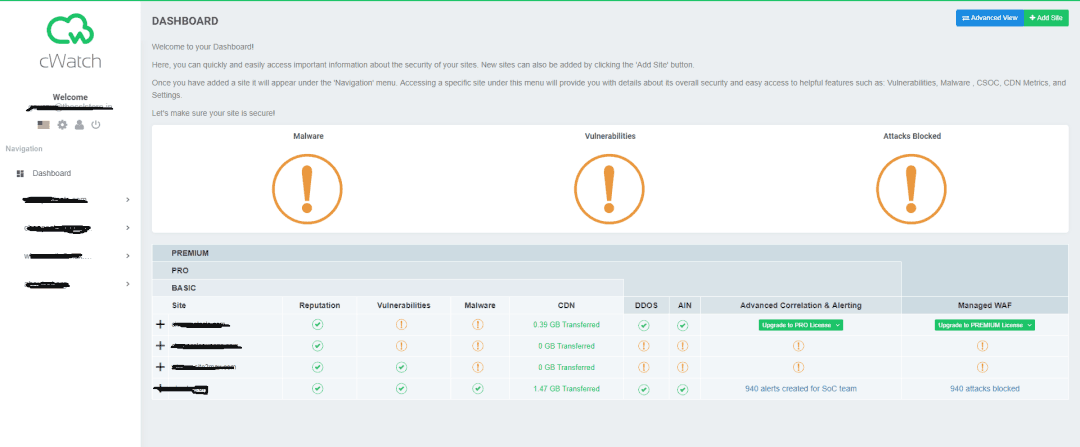 Here you will find numerous options like:
On the top right, there are two options Advanced View (Which can be changed to Simple View if clicked upon) & +Add Site (To add another site).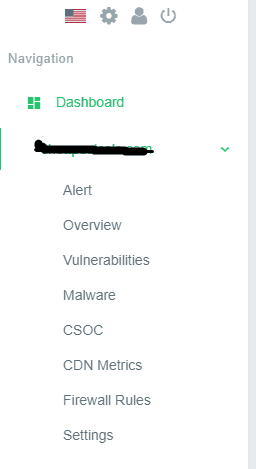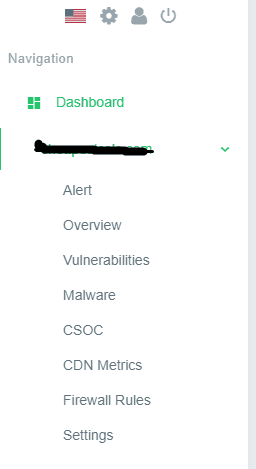 On the left side, you will find the Dashboard. Here you can navigate to your added website, and interact with different options like Alert, Overview, Vulnerabilities, Malware, CSOC, CDN Metrics, Firewall Rules & Settings is there.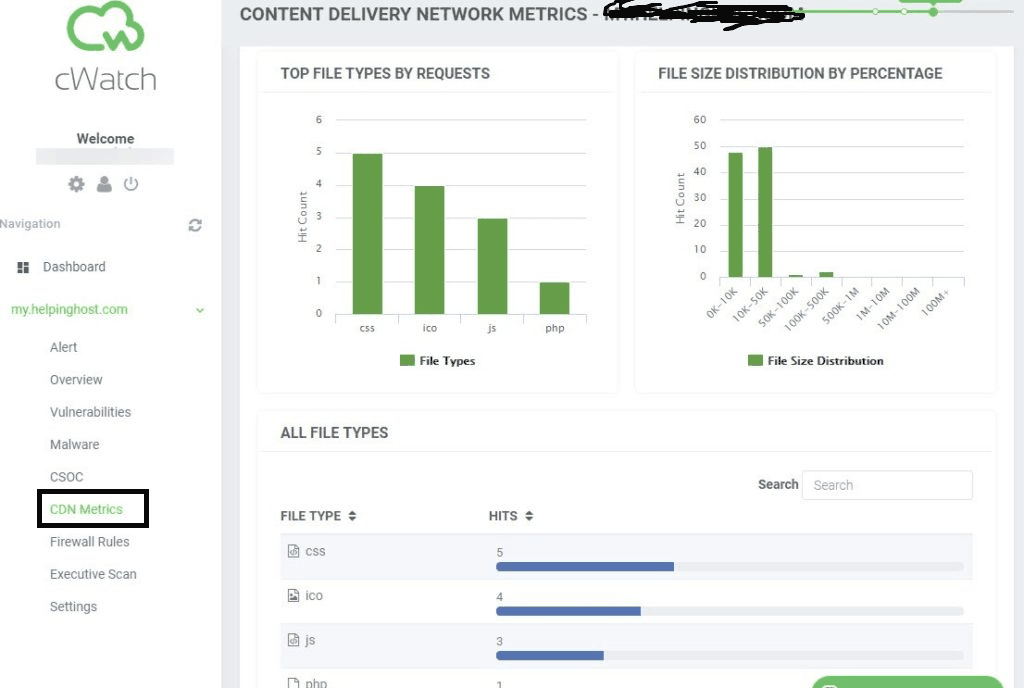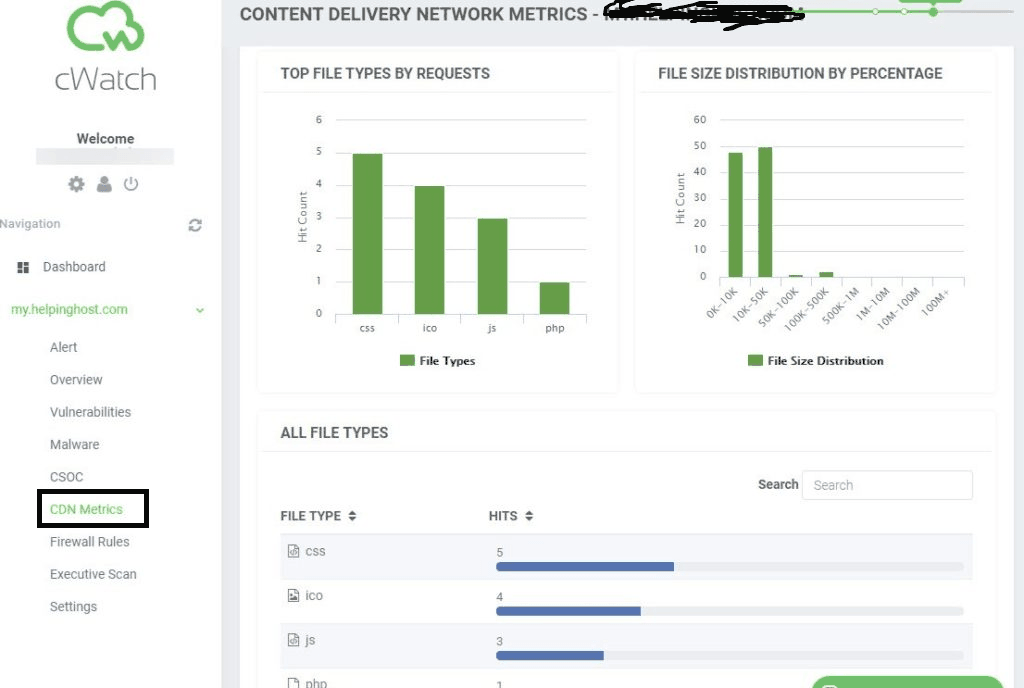 Let's explore all the options in detail.


If you have an alert, it will be displayed here.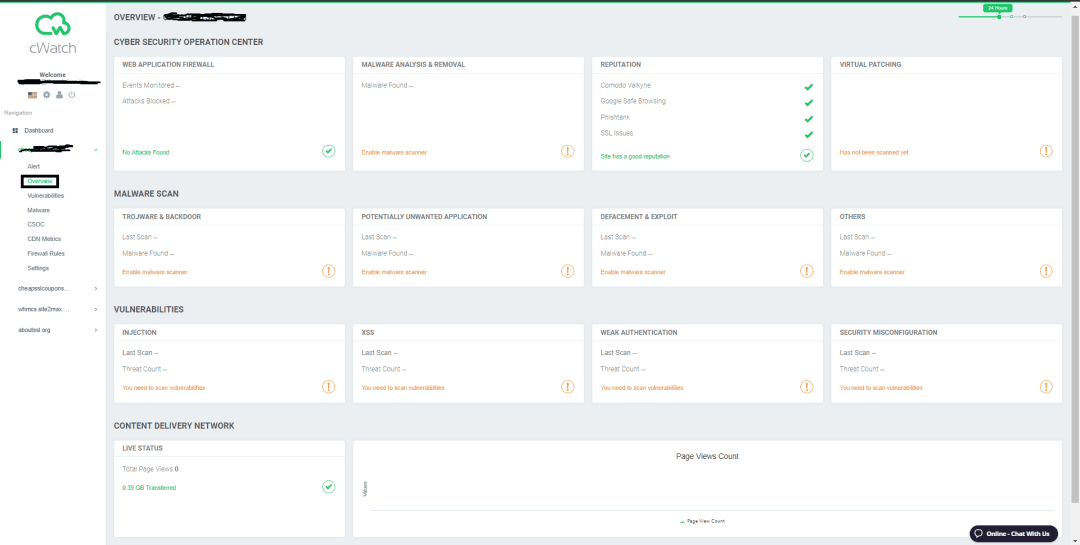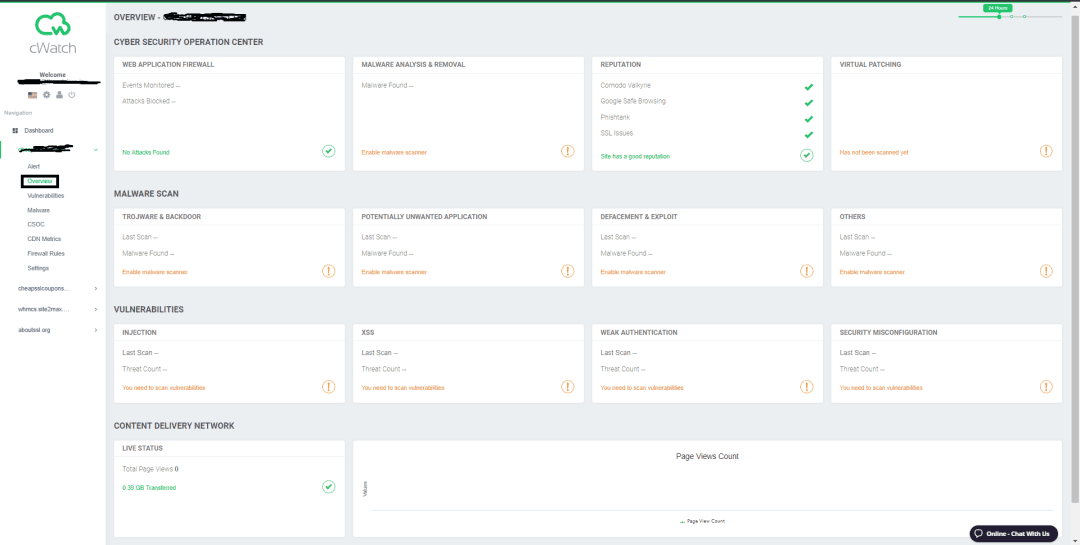 Here is an overview of your website's security status. It's divided into three sections,
Cybersecurity Operation Center which handles the Web Application Firewall, Malware Analysis & Removal, as well as the Reputation & Virtual Patching features.
Malware Scan, which has four different features Trojware & Backdoor, Potentially Unwanted Application, Defacement & Exploit and Others.
Vulnerabilities displays information on four options: Injection, XSS, Weak Authentication & Security Misconfiguration.
Lastly, Content Delivery Network which shows Live Status & Page Views Count.
Click through the "Start Scan" button and get all the details. The first option will show the vulnerability details of your installed Content Management System (CMS), like any installed theme, content folders, HTML files, coded files, etc.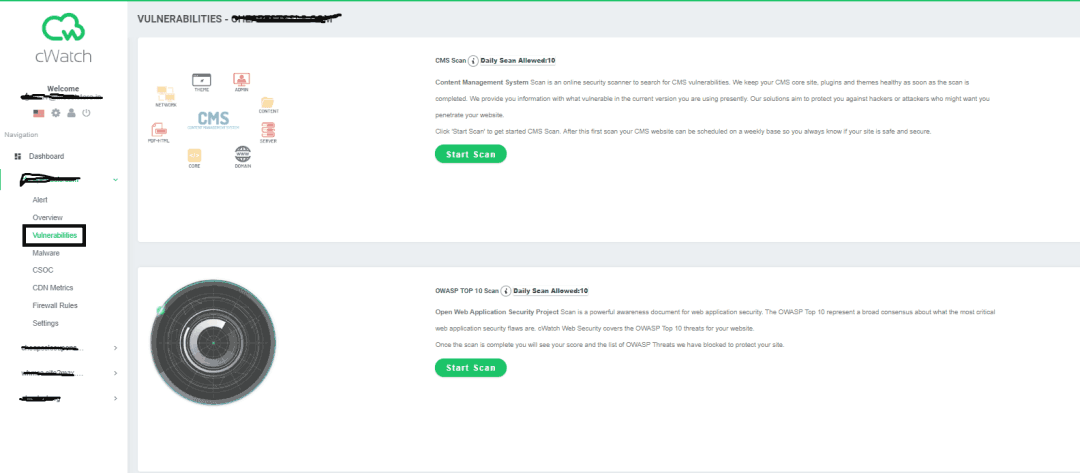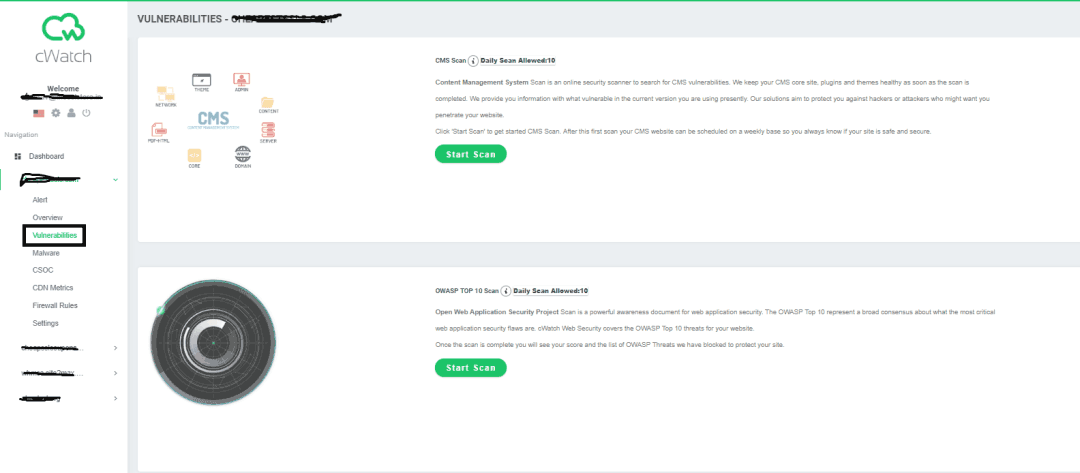 This is the OWASP Top 10 Scan, which will alert you if any of the listed attacks have occurred, it also keeps score on all the OWASP Threats that have been blocked to protect your website.
CSOC (CYBER SECURITY OPERATION CENTER):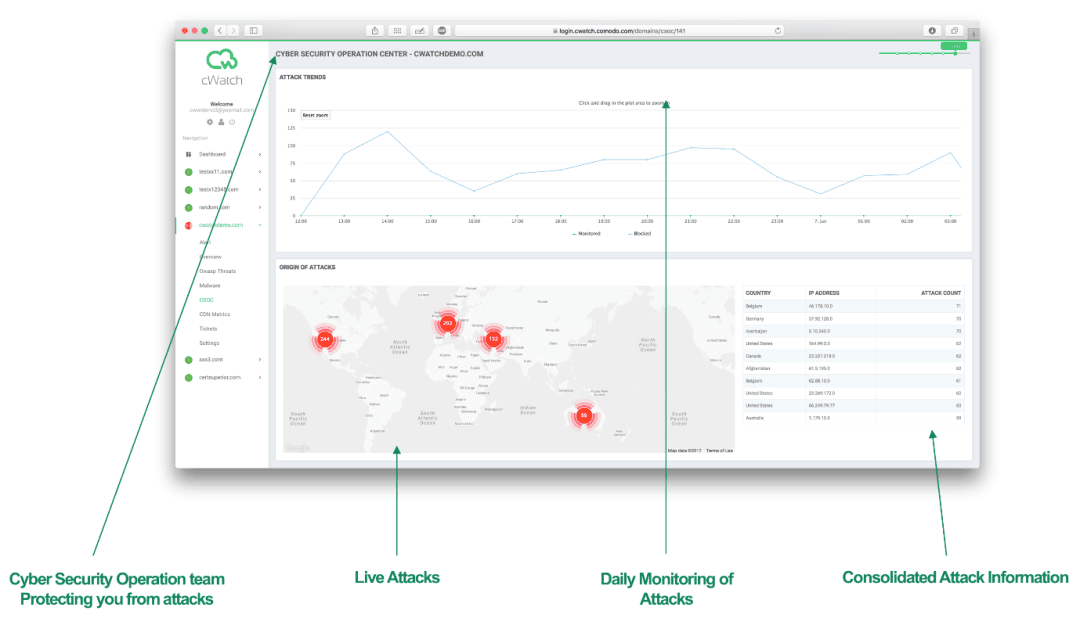 It provides detailed information like attacks what occurred from which country. Consolidated attack information is carried out in tabular format which displays information like Country, IP Address & number of attacks from each of them. Lastly, daily monitoring of attacks is displayed with this graphical representation.
CDN (CONTENT DELIVERY NETWORK) METRICS: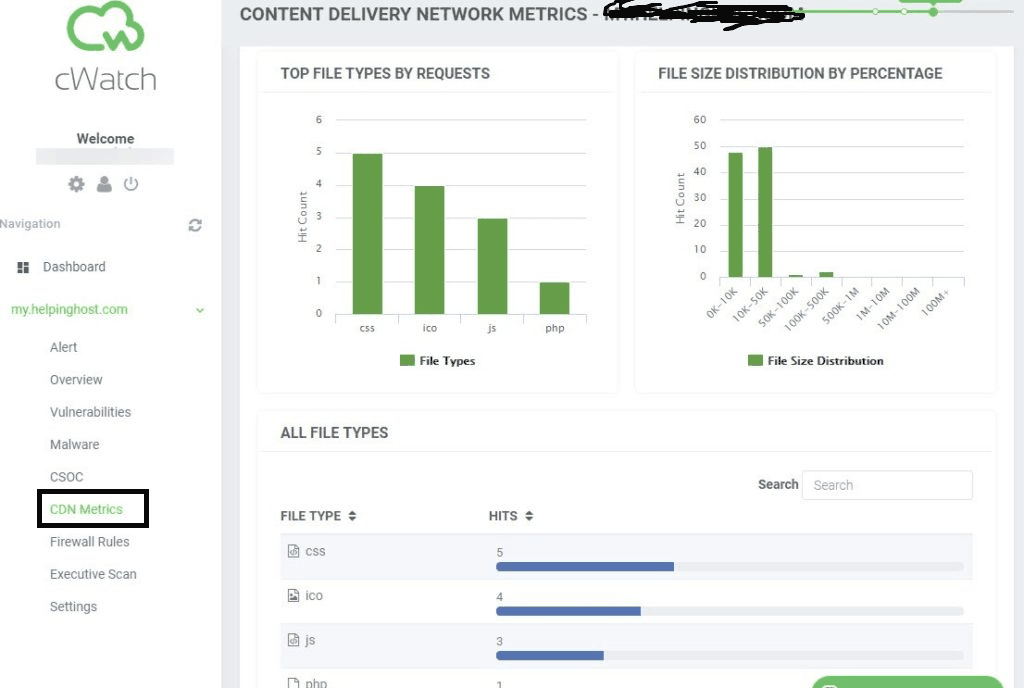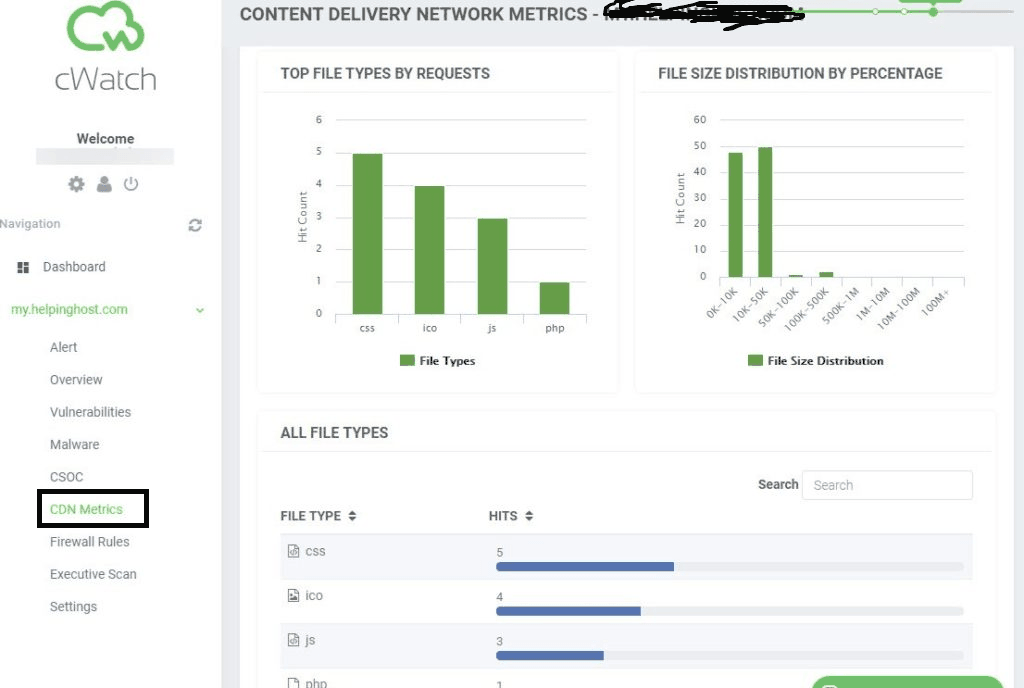 A CDN is like a global network that is made up of proxy servers. It allows caching of your website on edge servers to provide content at a faster rate to your visitors globally. Overall it improves site speed and at the same time adds a layer of security as well.


As its name says. Here you can apply the rules like, blocking visitors from certain countries or locations, or you can define rules pertaining to IP range, URL, Http Method, etc.


Some Real Facts About Comodo cWatch Web Security
Unknown Vulnerabilities Processed by Comodo
Unknown Malware Found Weekly
Countries Whose Data Output cWatch Moniter
Weekly Endpoints Gathering Data by Comodo
Average Website Performance Upsurge
Who uses Comodo cWatch Web Security
Online merchants & service providers who deal with sensitive information like Credit Cards or any other financial information through simple or automated systems must be compliant with the Payment Card Industry Data Security Standard (PCI DSS) but independent of those responsibilities, every organization should want to add an extra layer of protection to their websites.
Premium
On Demand Analysis
Best for – sites that handle informations

Single Domain Protection

Scan every 4 hrs

Unlimited Malware Removal

Very High Protection Level
Recommended for – Low-Risk Websites that don't handle personal information

Single Domain Protection

Scan Every 6 hrs

Unlimited Malware Removal

High Protection Level
Single Domain Protection

Scan Manually

Upgrade anytime for protection

No credit card required
FAQs related to Comodo cWatch Web Security
Here are some of the commonly asked questions we found while doing this Comodo cWatch review.
Who mostly uses Comodo cWatch Web Security?
Personal websites, Start-ups, SMEs, Agencies, Enterprises.
Which web server does Comodo cWatch Website Security support?
It supports Apache web server v.2.2, 2.4.2 and newer, LiteSpeed web server v.4.2.22 and newer & Nginx web server v.1.6.3 and newer.
What is the development type?
Cloud-Based.
What's the pricing structure?
Its available on a Monthly, Quarterly & Yearly basis.
Looking at the above information, we can confidently say that you will be investing your money wisely if you use cWatch Web Security service. It's one of the best-designed, most complete SaaS web stacks on the market, and it comes at the best price. These types of services are hard to find, and COMODO has shown an innovative new wrinkle in web security with this product.