Documents Require for Entrust SSL Certificates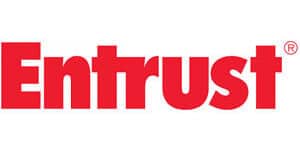 Steps and Documents to follow to enroll Entrust Certificate Services Standard or Advantage SSL Certificates+
Checking business information
Entrust checks the business name that you supply to prevent the unauthorized use of your organization's name in a Web server certificate. To check this Entrust verifies your information using online business registration databases to confirm the business at the address provided in the order.
If Entrust is unable to locate the business registration information utilizing the online databases you will be asked to provide one of the following:
business license
articles or certificate of incorporation
articles of organization (non-profit organization or LLC)
DBA (doing business as) registration
fictitious business name statement
charter documentation (banks, universities, government agencies)
Confirming contact information
In the online certificate request form, Entrust requires the customer to identify three points of contact with the organization: a technical contact, an authorization contact and a billing contact.
Entrust checks the contact information to be sure that the individuals are employed by the company or organization, are qualified for their role and are willing to fulfill their role. Entrust obtains a telephone number for the authorizing company through a third-party directory.
The third-party telephone number is obtained through one of the following:
company telephone bill (company name, address and telephone number)
a telephone operator (directory assistance)
online telephone directory (for example, Yellowpages.com)
Entrust will place a telephone call to the main reception desk to get in touch with the authorization contact.
Entrust will verify with the authorization contact that they employ the technical contact, directly or through an out-sourced company. 
If Entrust is unable to find a third-party telephone number or Entrust is unable to contact the authorization contact by telephone, they will send an email request for the information to the authorization contact, and place the order on hold. Entrust has 22 Standard and Advantage SSL Certificate Enrolment Guide, if customer does not reply (with proper business documents) within 30 days from the date order was placed Entrust will notify the customer and cancel the order.
As a private individual, you must provide appropriate proof of right. For example:
a photocopy of your passport or identity document, stamped and certified by a relevant authority (for example, a notary or lawyer who is qualified to certify these documents in the country where you live). The person certifying this documentation must provide their name and telephone number for further confirmation, if required by Entrust.
a copy of a current bank statement in your name (you may black out the financial details)
a voided check from your bank account
If Entrust does not receive your information, they will send you an email requesting the information, and place your order on hold until it has been supplied. If you do not reply within thirty days from date when the order was placed, Entrust will notify you and cancel the order.