How to Fix the Error Code 'SSL_ERROR_NO_CYPHER_OVERLAP'?
Error code 'SSL_ERROR_NO_CYPHER_OVERLAP' occurs in Firefox due to outdated Firefox browser versions, misconfigured SSL3 and TLS encryption protocols, or it could be because of a server-side issue
Just like any other error, experiencing the 'SSL_ERROR_NO_CYPHER_OVERLAP' error code will definitely be frustrating. There are a few different reasons for this error code. In most cases, this error occurs when the server of the website you are trying to access is unable to provide Firefox the required security data for the website. As a result of that, the webpage will not load as expected. This article explains how to fix this error in Firefox.
SSL_ERROR_NO_CYPHER_OVERLAP is an error code which is unique to Firefox. Similar errors appear in other browsers as well, but the error codes are different.
The following are the most common reasons for this error.
Older versions of Firefox could cause this error while accessing certain websites or while browsing the web.
This error could be a result of disabled SSL3/TLS encryption protocols.
Server-side issues on the website's side could cause error code SSL_ERROR_NO_CYPHER_OVERLAP
Apart from that, your Firefox browser's settings could possibly be a reason why you are experiencing this error. It could either be due to disabled TLS or SSL3 or because these security protocols are misconfigured. This could cause miscommunication between your browser and the website's server, resulting in displaying the error code SSL_ERROR_NO_CYPHER_OVERLAP. All this could be a result of using an outdated version of the Firefox browser.
The following are the three solutions to fix the Firefox error code SSL_ERROR_NO_CYPHER_OVERLAP. Remember, you will need administrator privileges to fix this error.
How to Fix Firefox Error Code SSL_ERROR_NO_CYPHER_OVERLAP?
Check for Updates and Update Firefox to the Latest Version
If you are using an older version of the Firefox browser, you are more likely to witness this error code. This could be due to the older and outdated cypher suites and TLS versions the older Firefox version supports.
For a better and safer experience, Firefox releases updates with new security protocols, from time to time. While Firefox itself recommends users to use the newest version of the browser, it is wise to update your browser to the newer version when there is an update. According to Firefox, older versions of the browser could pose a security risk and using one of its older versions could also make you vulnerable to attacks.
The steps involved in the process of updating Firefox are fairly simple:
Open your Firefox browser and click on the Firefox menu at the top left corner.
Select Help and click on About Firefox.
When the About FIrefox window opens, it will automatically check for updates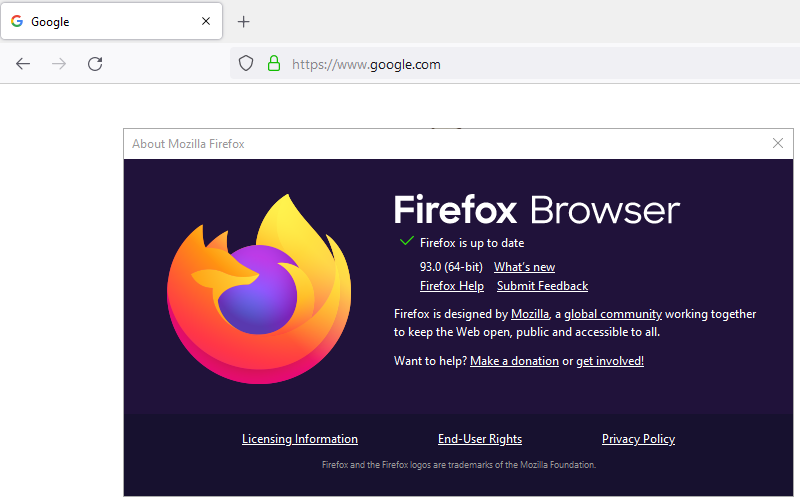 If the browser finds an updated version, it will automatically download the update.
Click on Restart to update Firefox, once the download is complete.
If this doesn't work for you, you can update Firefox by visiting the official Firefox website. Just click on the Download Firefox button to download the newest version.
Check and Reset SSL3 and TLS Encryption Protocols
If you have updated Firefox to the latest version or you are already using the latest version of the browser, but you still experience the error code SSL_ERROR_NO_CYPHER_OVERLAP, it could be due to the SSL3 and TLS encryption protocols. If these protocols are disabled, you could experience this error. These protocols are mandatory to access certain websites but not all websites require these two protocols to be enabled. If you are accessing one of the websites that require these protocols, you might run into this error if the SSL3 and TLS1 protocols are disabled. Resetting the SSL3/TLS settings could help you bypass this error code.
Steps to Reset SSL3 and TLS Encryption Protocols
Open your Firefox browser and type "about:config" in the address bar and hit enter.
You will see a page that says "Proceed with Caution." Firefox displays this message to alert you and prevent you from making major changes to the browser settings. You can hit the "Accept the Risk and Continue" button to proceed.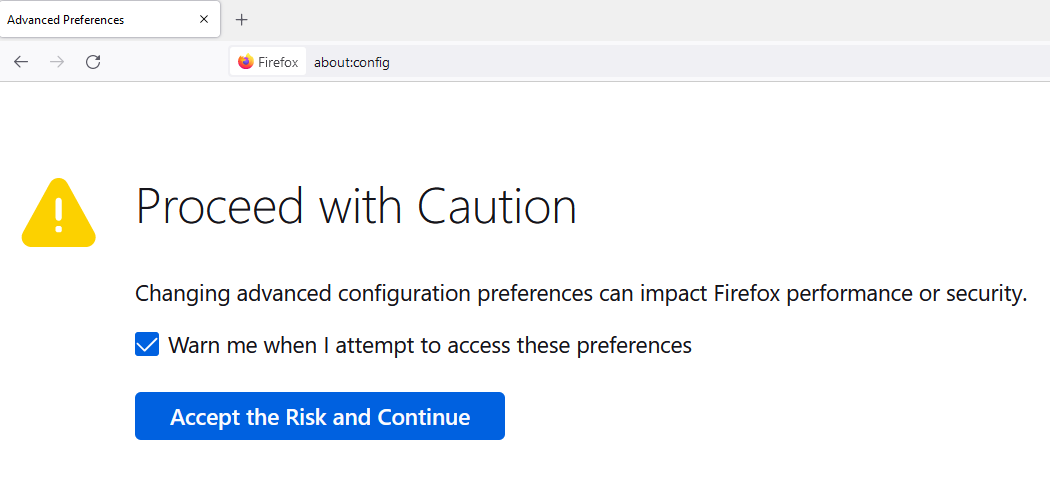 In the next screen, type "TLS" in the search bar and the list of TLS configurations will be displayed.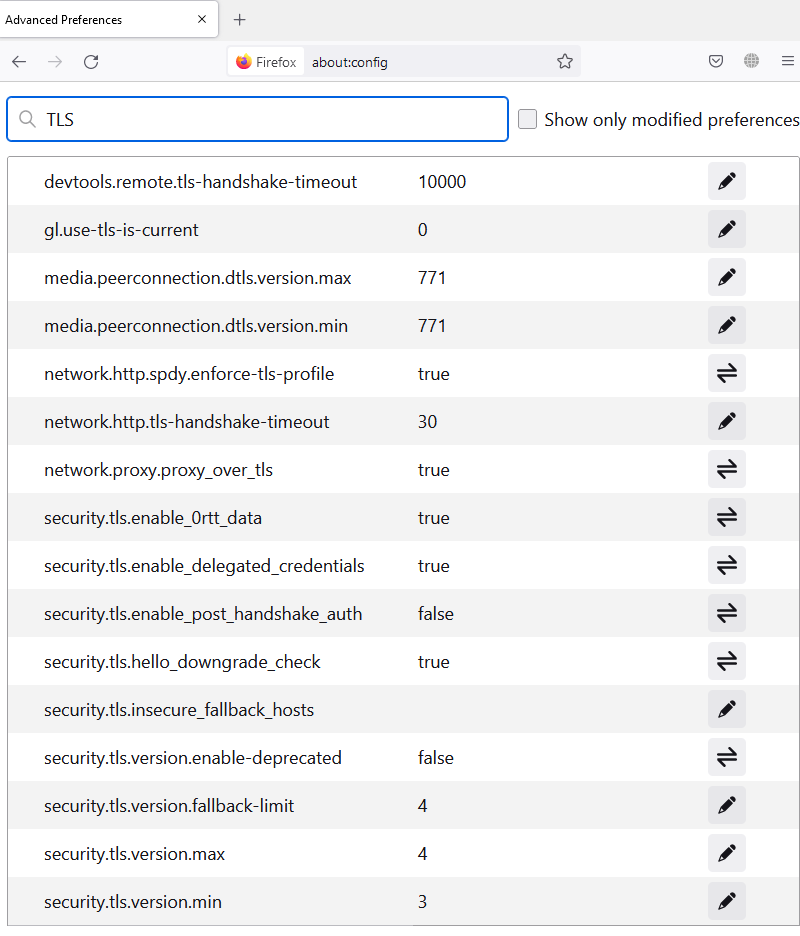 See if any value is bolded. If you find any value in bold, right click on it and select Reset. Resetting the value will restore the settings to default.
Once you are done, type in "ssl3" in the search bar. Find bolded values and reset them.
Also check if the values for the following two items are set to false. If not, you can change it to False.
security.ssl3.dhe_rsa_aes_128_sha
security.ssl3.dhe_rsa_aes_256_sha
Check the Firefox Configuration File and Security Protocols and Bypass Them
If you have already tried the above two methods and if you still experience the error code SSL_ERROR_NO_CYPHER_OVERLAP, you can bypass the security protocols of your Firefox browser. Security protocols alert you when you access an unsafe website and help you stay away from such websites. So it is not recommended to bypass these protocols. But if you believe you are accessing a safe website, you can go ahead and enter a cypher validation manually to circumvent this error code.
Follow the steps below to bypass the security protocols.
In your Firefox browser, type in about:config in the address bar.
Type "tls" in the search bar and find security.tls.version.min:
Click on the edit button which is the pencil icon. Set the value to "0."
Repeat the same for security.tls.version.fallback-limit
If the above method doesn't work for you, there is an alternative method to bypass your browser's privacy protocols. The steps are as follows.
In your Firefox browser, click on the three bar menu and click on Settings.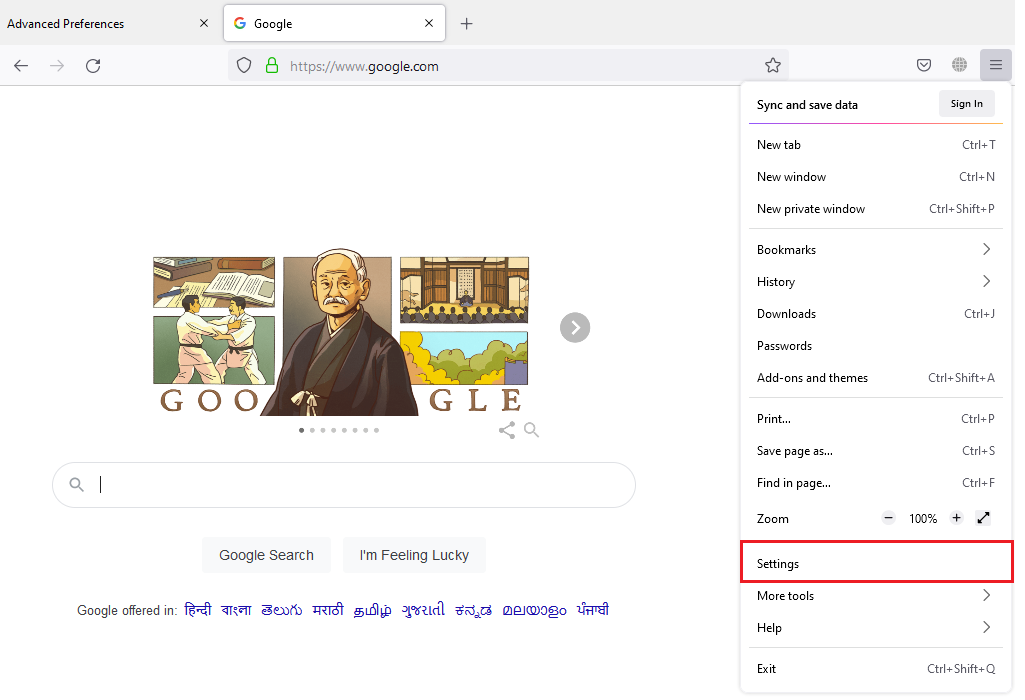 Go to Privacy and Security and scroll down to find "Block dangerous and deceptive content."
Deselect this option.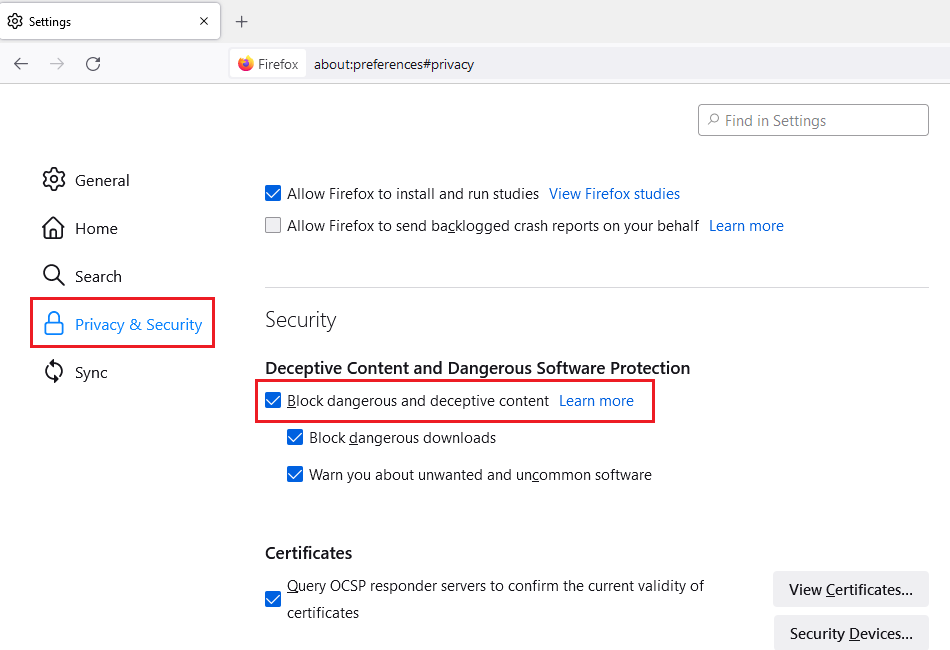 Once you complete this step, visit the website again to see if the error has been resolved.
If you still experience the error code SSL_ERROR_NO_CYPHER_OVERLAP, it could most likely be a problem with the website. It could likely be due to an issue with the site's SSL certificate that uses outdated ciphers for which, as an end user, you cannot do anything but wait until the website owner fixes the issue. However, you can get in touch with them through email, if you know it and let the website owner know about the issue.
This error code 'SSL_ERROR_NO_CYPHER_OVERLAP' that is common in Firefox occurs when certain encryption protocols are disabled or if you are using an outdated version of the browser. Fortunately, there are ways to fix this error. You can try the above-mentioned steps to fix this error and access any website of your choice.