How to Install SSL Certificate on H-Sphere
Steps to Install SSL on Hsphere Control Panel
Initial Instruction
Please check for following processes before you start installing SSL Certificate
Buy or Renew SSL Certificate
Generate CSR (Certificate Signing Request) with SHA-2 algorithm
Save your CSR & Private key file on your server
Apply for SSL Certificate Issuance
Submit SSL issuance Documents as per CA's requirement (Only For EV & OV Certificates)
Step 1: Save SSL Certificate Files
Once the certificate authority verify your documents they will issue SSL via email, included in a zip file. Now check your email & download the zip file and extract it on your server directory.
Step 2: Installing SSL Certificate on H-Sphere
Open your H-Sphere Control Panel
Click on SSL form the Control Panel home page.
Now move to Web Services page
In SSL field click on Import SSL Certificate URL
Open your SSL certificate file using text editor and paste the encrypted data on Certificate File
Click on Upload
In Certificate Chain File box enter the encrypted data of your Intermediate SSL Certificate.
Click on Install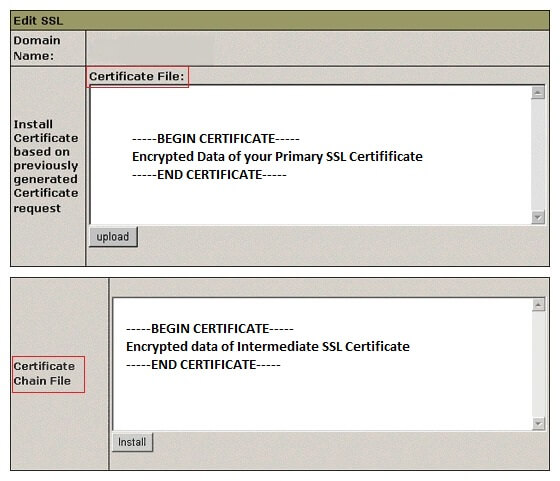 Finally your SSL Certificate is now installed on H-Sphere.
Resources and Other Installation Guides

Comodo PositiveSSL Multi-Domain
$17.54 – 2 SAN Included
Vendor Price: $41.73
Coupon Code: ASCSCPMD4