How to Install GlobalSign SSL Certificate
Steps to Install GlobalSign SSL Certificate on Microsoft IIS 7
Initial Instruction 
Before Installing GlobalSign SSL Certificate please ensure following processes have been completed
Buy/renew GlobalSign SSL Certificate
Generate CSR with SHA-2 algorithm
Save the CSR & Private key file on your server
Apply for SSL Certificate Issuance
Submit SSL issuance Documents required by GlobalSign (If required)
Step 1: Download and Extract Certificate Files
After completion of SSL certificate issuance process, GlobalSign will send you SSL certificate in a zip file via email included with server certificate, intermediate certificate and root certificate. Download that zip file and extract all certificate files on your server directory where you wish to save all your SSL Certificate files.
Step 2: Add Snap-in in MMC (Microsoft Management Console)
Press window key + R (Win + R) and then type MMC & press enter.
Click over File and select Add/Remove Snap-in.
Now click on Add
Here in Add Standalone Snap-in box select Certificates
Press Add
Now from the bullet list, select Computer Account & press Next
Select Local Computer option & press Finish
Now close Standalone Snap-in box and then in Add/Remove Snap-in click on
Snap-in is now added in MMC.
Step 3: Install GlobalSign Intermediate & Root Certificate
In MMC you can see Intermediate Certification Authorities folder, Right click on it and then move to All Tasks > Import.
Certificate Import Wizard will be appear now, click on Next,
In the next wizard browse for the intermediate SSL certificate press Next
After completion of next wizard, press Finish
GlobalSign Intermediate Certificate is now installed in MMC
Generally GlobalSign root certificate will be Pre-installed in windows, if you don't find root certificate then you need to preform step 3 again to install Root Certificate.
Step 4: Install SSL certificate on IIS
After installing Intermediate and Root Certificate the next step is to install SSL on IIS.
Open your IIS 7.
Open Start > Control Panel > Administrative Tools > Internet Services Manager.
Now click on Server Name.
In the Security section tab double click on Server Certificates.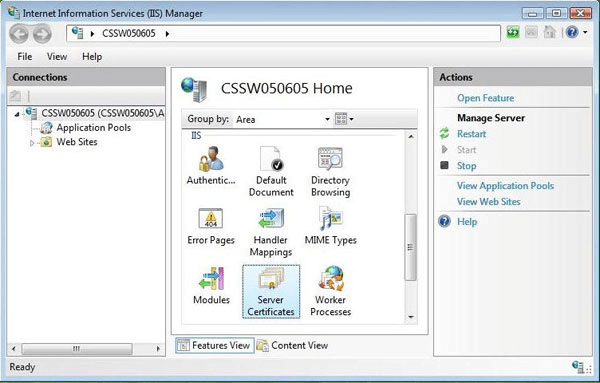 Click on the Action menu in the right side of window.
Select Complete Certificate Request option, now the Complete Certificate Request wizard will appear on your screen.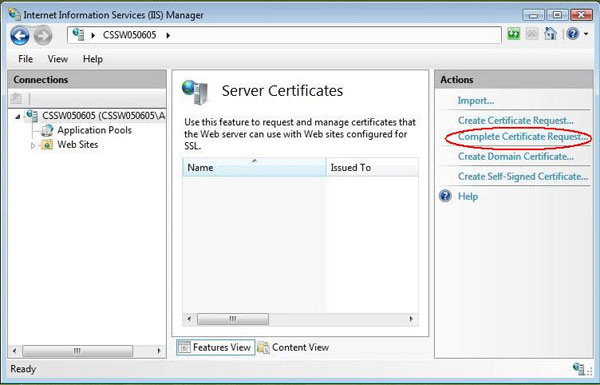 Now browse for your Certificate (.crt) file, and in friendly name enter the domain name & press OK button.
Now select the name of your server form the collection menu in IIS Manager.
Select the site which you wish to secure.
Now click on Binding in the action menu.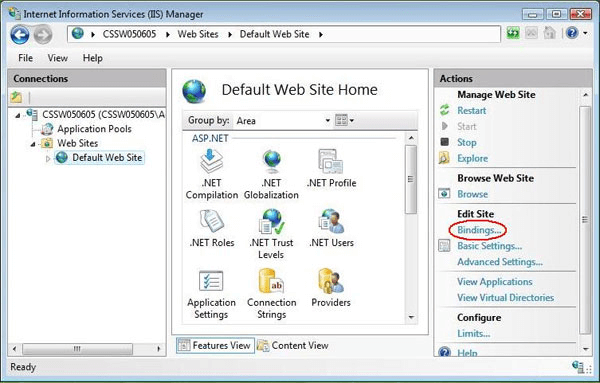 Click on Add in the Site Bindings window
Add Binding Window will be appear, here select HTTPS from the type dropdown option
In IP address select the IP address of the website or leave it as "Add Unassigned"
Port will be 443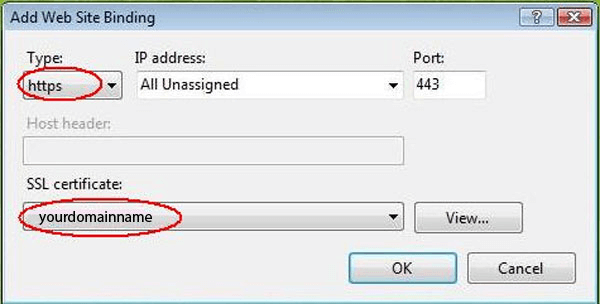 In SSL certificate field select the SSL certificate which you have installed previously
Now click OK button & Restart IIS
Your SSL certificate is now installed on IIS.
Resources and Other Installation Guides