RapidSSL Certificate Authority Review
100% Verified RapidSSL Certificate Reviews by Customers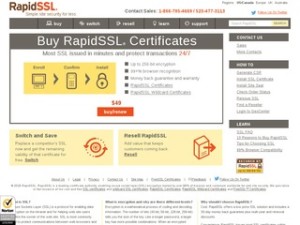 RapidSSL is the second largest Certificate Authority, established in 2010 & operated by GeoTrust. RapidSSL is today the world's most promising SSL certificate brand, which offers SSL solution of online businesses and individuals.
RapidSSL offers two premium quality SSL certificate, first is RapidSSL Certificate for single domain validation and other is RapidSSL wildcard certificate for unlimited sub-domain validation. Quick authentication and domain validation process make both of RapidSSL certificate available within minutes. RapidSSL secured website's URL display prefix of green colored HTTPS:// which indicates the website is protected. RapidSSL also offers quick customer support and resources for SSL certificate installation for free.
RapidSSL Certificate reviews, listed below will provide you a better knowledge and sources whether RapidSSL® is satisfying their customer's needs or it fails. These reviews are posted and been verified by trusted RapidSSL Customers. You will find the RapidSSL review on Various Products, Customer Experience, Support systems, SSL installation, SSL knowledge, etc…
If you want help regarding an SSL certificate selection, then here is an incredible solution for you, and we name it SSL Wizard. It will help you to find the right SSL certificate provider with premium features of SSL security such as RapidSSL SSL certificates.
If you are an existing RapidSSL customer and wants to share your experience on RapidSSL Security, please write RapidSSL certificate reviews here which help others to understand about RapidSSL stand in SSL industry.
RapidSSL's Average Rating
☆☆☆☆☆

4.5

out of

5

based on

6

reviews.
Overall rating:

Q1: How to generate CSR for RapidSSL certificate?
To generate CSR, click
here
, now add correct and valid information in each section one by one followed by CN – Common Name, O – Organization Name, OU – Organization Unit, L- Locality, ST – State or Province, C – Country code, E-mail Address, Root Length (Select 2048/4096), Signature Algorithm (Select SHA-2).
Q2: Does RapidSSL offers Free SSL certificate?
Yes, RapidSSL Certificate offers Free (Trial) certificate for their customers for 30 days' validity period. It will be issued within minutes and compatible in all 99.9% web & mobile browsers.
Q3: How many SSL Certificate I can buy from RapidSSL?
RapidSSL didn't put any purchase limitations, you can buy as many number of SSL certificates as you wish. The limitation is applied only on free SSL, so using one account user can only get one free RapidSSL certificate.
Q4: What domains I can secure using RapidSSL wildcard certificate?
RapidSSL wildcard certificate is developed to secure website and its unlimited number of sub-domains so using wildcard, user can secure following types of domains.
www.domain.com
Domain.com
Blog.domain.com
Info.domain.com
Security.domain.com
Anything.domain.com
Q5: How RapidSSL certificate validation process completes?
RapidSSL completes the domain verification process in following 3 days
Email Based Verification – Verification link will send via email.
Via File based verification – You need to upload Auth file on server directory.
Domain Registrar Information – direct verification via Domain Registrar's information.
RapidSSL Reviews
4.5

out of

5

based on

6

reviews.
Overall rating: