RapidSSLonline Review: Our Experience with Rapid SSL Online
There are plenty of reputed SSL/TLS certificates provider around the world and RapidSSLonline (operated by The SSL Store, a subsidiary of DigiCert, Inc.) is one of them. They started SSL Certificating in 2007 – "a crazy idea" in their own terms. In these years, they have made a significant mark in this industry and have become one of the largest SSL providers in the world. Let's have a look at our RapidSSLonline Review.
Reputation
As a customer, the first thing that you'd want to learn about the seller is its reputation. RapidSSLonline is another retail website for DigiCert and its other subsidiary companies such as GeoTrust, Thawte, and RapidSSL. We don't know if you know this or not, but this is kind of a big deal. Not everyone gets to be one of the biggest names in the cybersecurity industry.
Therefore, on the reputation front, RSO well and truly fulfills our expectations.
  Our Rating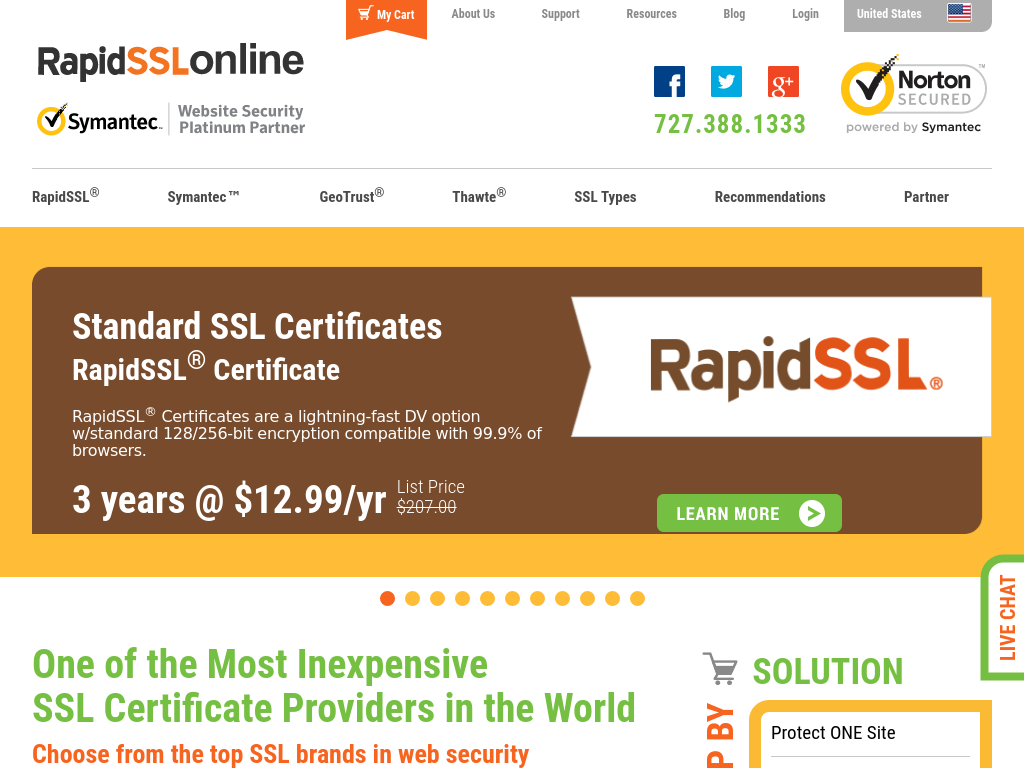 Reviewed: Why or Why Not RapidSSLOnline?
Options, Options & More Options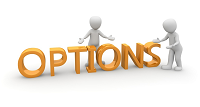 Whether it's buying a sweatshirt or an SSL certificate, we all love options. There are many very good SSL certificate providers, but many of them are very limited regarding options. Well, that's not the case with RSO.
You get to buy certificates from four reputed brands in DigiCert, GeoTrust, Thawte, and RapidSSL. Moreover, you get to choose from a host of certificates that range from single domain DV to multi-domain EV.
Pricing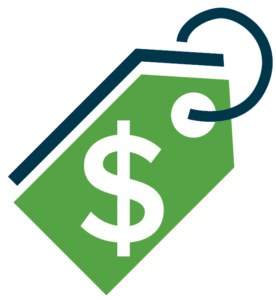 It's our common observation that the pricing and options go hand-in-hand, and we observed this during RapidSSLonline review. Whether you want the cheapest of DV certificates or want to shell out some serious bucks with Enterprise certificates, you get it all!
If you're worried about pricing, stop!
Service & Support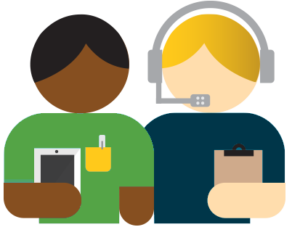 During our review, we tried to contact their customer support team. And we'd have to say they didn't disappoint us at all. Support executive named Shawn was assigned to us, and he was technically capable and pretty helpful with his prompt replies.
You can contact their customer care department via website or email.
30-Day 100% Money Back Guarantee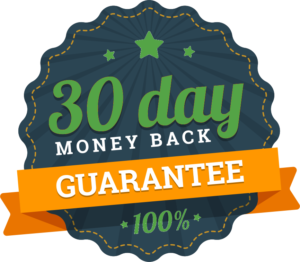 Another feature that impressed us during the RapidSSLonline review is their 30-days money back. It means that you can get your entire money back within 30 days of making a purchase.
Customer Reviews on Shopper Approved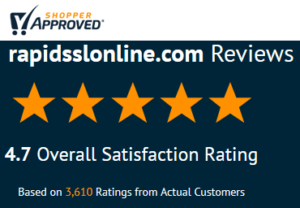 There's no better way to know about any seller than to learn real-life customer reviews. Overall, they have a rating of 4.7 out of 5. That's a pretty good score we'd say. If you want to learn more about those RapidSSLonline customer reviews, you should click here.
SSL certificates Provided by RapidSSLonline
SSL Certificate Name
SSL Type
Issuance Time
More Information
DV SSL Certificates
RapidSSL Certificate
Immediate
Read More
Thawte SSL123
Immediate
Read More
GeoTrust QuickSSL Premium
Immediate
Read More
OV SSL Certificates
Thawte SSL Web Server
1-3 Days
Read More
EV SSL Certificates
GeoTrust True BusinessID with EV
1-5 Days
Read More
Thawte EV SSL
1-5 Days
Read More
Code Signing Certificates
Thawte Code Signing
1-3 Days
Read More
Wildcard SSL Certificates
RapidSSL Wildcard
Immediate
Read More
GeoTrust QuickSSL Premium Wildcard
Immediate
Read More
Thawte SSL123 Wildcard
Immediate
Read More
Thawte SSL Wildcard
1-3 Days
Read More
Multi-Domain (SAN) SSL Certificate
GeoTrust QuickSSL Premium SAN
Immediate
Read More
GeoTrust True BusinessID Multi Domain
1-3 Days
Read More
EV Multi-Domain SSL Certificate
GeoTruste True BusinessID EV Multi-Domain
1-5 Days
Read More
Final Thoughts
Some years back, the SSL Certificate industry was not as competitive as it's now. Many new players have entered and opting for a provider can be a mind-boggling – hair-scratching task. Lucky for you, we're here. As far as the RapidSSLonline review is concerned, we would strongly recommend you have a look at them. We found them very good. It's a definite thumbs up from us!