What is Business or Organization Validated SSL Certificate?
Boost Your Business with High Assurance Certificates
Organization Validation SSL certificate is a high assurance SSL certificate which is used to validated a company/business/organization. The main purpose of OV SSL certificate is to encrypt website/business and user's sensitive information which is being used for transactions.
It comes up with 2048-bit signature and powerful 256-bit encryption. It also displays the name of the organization in the site seal, which is a trust indicator that shows the business is legitimate and assures that the information shared remains confidential. It increases customer's confidence therefore improving the conversation rate of the business.
OV SSL certificate secures the websites from phishing attacks and keeps hackers and attackers at bay.
Compared with the Domain Validated (DV) SSL, organization validated (OV) SSL is more trustworthy for online businesses.
Process of Business/Organization Validation SSL Certificate
To get the organization validation SSL certificate from the certificate authority (CA), the user/organization needs to submit the business documents to CA. Types of the documents required depends on the CA. If the CA finds the documents in line with its requirements, it will approve the request and issue the certificate.
But before verifying the documents, the CA verifies the domain ownership of the organization. For domain verification, the CA can go with email verification, file based verification or can verify directly from domain registrar's information
Note: Make sure the Domain Registrar's information must be public.
The CA might ask for following documents before issuing the certificate.
Legal existence record
CA approved attestation letter
Legal government license
Incorporation article
Bank statement
Letter of issuer's relation with an organization
Third party database list
The whole process may take up to 2-3 days depending upon the CA.
How Organization Validation SSL Certificate Looks Like on Different Web Browsers?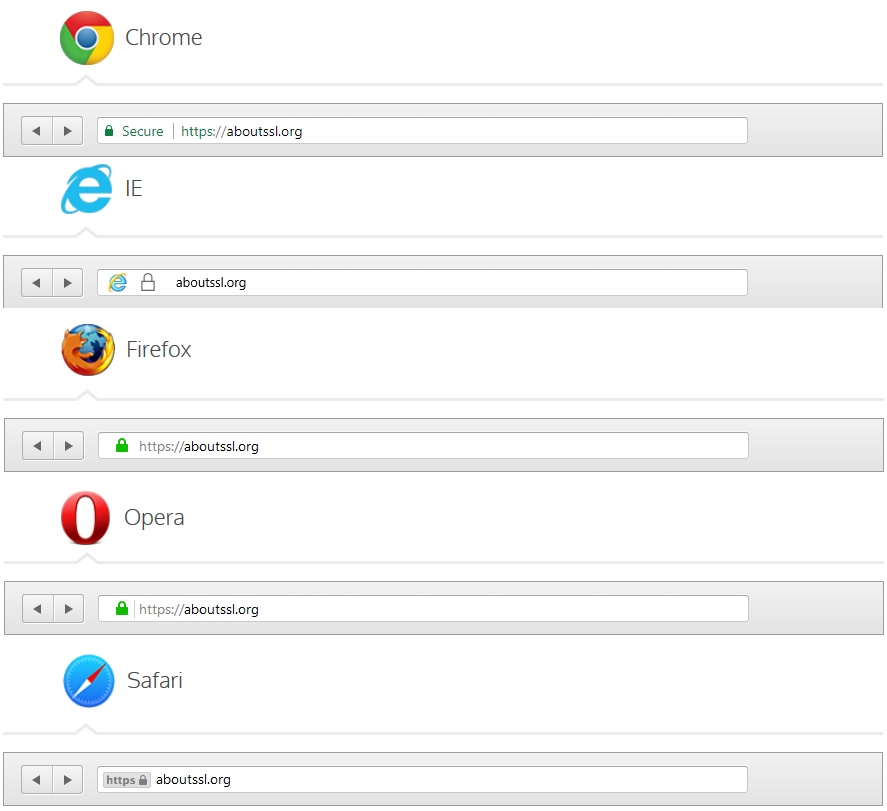 Who should Buy OV SSL Certificate?
You should definitely go for OV certificate if you have an online business which involves collecting sensitive information from your users. Social networking platforms, banking platforms, Facebook games & apps, Firefox Add-ons, Google Chrome extensions are highly recommended to adopt OV SSL certificate for security purposes.
OV SSL Certificates also come up with features such as wildcard & Multi-domain SSL feature. The wildcard SSL feature allows the users to validate business and to secure an unlimited number of sub-domains. Whereas the multi-domain feature allows the users to secure up to 100 fully qualified domain names.
Most certificate authorities (CAs) offer OV SSL Certificate with unlimited number of server licenses so that the user can install it on any number of servers and can be reissued any number of times.
Organization Validated SSL Key Features
Contains your authenticated organization details
2048 bit future proof SSL Certificates
A single certificate secures both www.domain.com and domain.com
Universally works with 99.9% browsers, mobile phones, and devices
SHA-2 signed certificates with 256-bit strong encryption
Unlimited Server License and Reissuance
Let's Compare Organization Validated SSL Certificate Prices & Reviews
Main Features
Comodo InstantSSL
Sectigo InstantSSL Premium
Thawte SSL Web Server
GeoTrust True BusinessID
Certificate Authority
Comodo
Sectigo
Thawte
GeoTrust
1
1
1
1
$28.44/yr
$66.40/yr
$86.50/yr
$87/yr
www.domain.com,
domain.com
www.domain.com,
domain.com
www.domain.com,
domain.com
www.domain.com,
domain.com
Small/Medium Businesses
Small/Medium Businesses
Small/Medium Businesses
Small/Medium Businesses
Organization
Organization
Organization
Organization
1-3 business days
1-3 business days
1-3 business days
1-3 business days
up to 256-bit
up to 256-bit
up to 256-bit
up to 256-bit
2048 bits
2048 bits
2048 bits
2048 bits
High
High
High
High
Business name displayed on certificate details
Business name displayed on certificate details
Business name displayed on certificate details
Business name displayed on certificate details
Unlimited
Unlimited
Unlimited
Unlimited
$50,000
$2,50,000
$12,50,000
$12,50,000
30 days
30 days
30 days
30 days
99%
99%
99%
99%
Know the Different Types of SSL Certificates
OV SSL Installation Guide & Tools