What is Code Signing Certificate?
A Code Signing Certificate is a digital signature technology, which allows authorized software publishers to sign their executable scripts, code and content to authenticate their identification over the Internet. It assures software publishers and consumers about the safety of software code and content. It contains a digital signature for 32-bit and 64-bit.
A software signed with a Code Signing Certificate technology indicates the user that the software is a genuine software which has been verified by certificate authority and the software code has not been tempered or altered.
Key Reasons for Deploying Code Signing Certificate for Software Publisher's
The reason to have Code Signing Certificates is to protect software script and code from potential alteration from 3rd party entities. Today, it is a necessary business practice for publishers to have secure software installed on their machines, and a Code Signing Certificate helps them gain the trust and confidence of the consumer. There are several reasons that a Code Signing Certificate is critical to have in the software before publicizing it.
See Also: Compare Code Signing Certificates
How to verify the Software is signed with Code Signing Certificate?
Once the Author signs his/her software with a code signing certificate, the digital signing technology creates a protected layer for the software code so that it cannot be tempered by hackers. When the user tries to download it, the web browser quickly verifies the software and allows the user to download it without any interruption or alert message.
When the user tries to download that signed software into his/her system. As shown in the image below, the OS shows a pop-up message which includes the software name, publisher website and software type.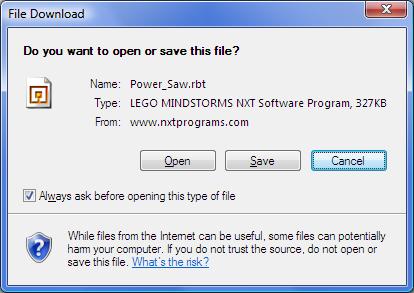 When the user tries to install an SSL encrypted software, the OS displays an alert as displayed in below.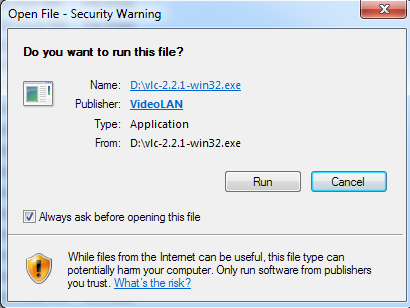 Here if the user clicks the link of the name, it will redirect him/her to developer's website. Whereas on clicking the publisher's name, a new dialogue box will appear as "Certificate Signature Details". This box carries information of the certificate.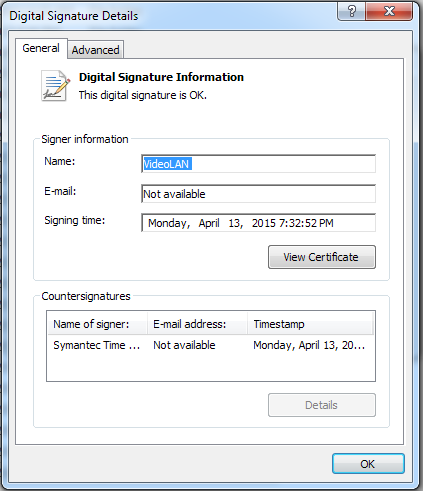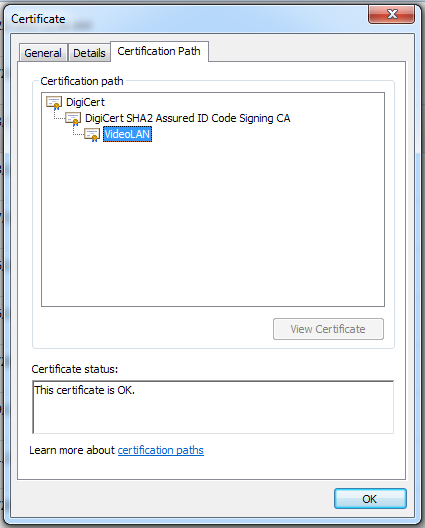 A Code Signing certificate or an 
EV Code Signing certificate
 supports desktop based platforms such as Java Applets, Apple OS X Software & Apps, Linux Software & Apps, Adobe Documents, Microsoft software & apps (.exe, .dat, .cab, .xpi, .dll, .ocx, etc.), Microsoft Office documents & Kernel Mode software. Similarly, a code signing certificate can supports mobile based platforms such as Java, Android apps, Windows Mobile apps, iOS apps, Blackberry and Nokia apps.
Code Signing Certificate Features & Benefits
Builds trust & confidence with the integrity of content
Determines the identity of original software publisher
Boosts number of Downloads
Creates trustworthy image of the distributor
Enhances software publisher's reputation
Compatible with all Windows OS
The List of Compatible Web Platforms with Code Signing Certificate

Microsoft® Authenticode® (Multi-Purpose)
Digitally sign code for Microsoft® Office 2000, Microsoft VBA, Netscape Object Signing, and Marimba Channel Signing
Digitally sign 32- and 64-bit user-mode (.exe, .cab, .dll, .ocx, .msi, .xpi and .xap files)

Microsoft® Office VBA
Digitally sign VBA objects, scripts and macros for Microsoft Office .doc, .xls, and .ppt files
For Microsoft Office and third-party applications using VBA

Java®
Digitally sign .jar files and Java applications for desktop and mobile devices
Recognized by Java Runtime Environment (JRE)

Mac®
Digitally sign Apple desktop applications

Adobe® AIR®
Digitally sign .air or .airi files
Required for all AIR-based applications
Comparison of Code Signing Certificate Providers
Video Tutorial – What is a Code Signing Certificate?
Code Signing Installation Guide & Tools