Reviews of Comodo SSL Certificates by 100% Real Customers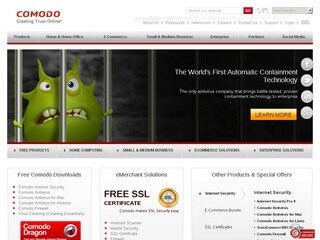 Founded in 1998, Comodo® Group, INC provides computer software and SSL certificate, as per W3Tech's survey on various SSL brands, Comodo® has become the largest SSL Certificate Authority with 40.3% of SSL market share.
Today, Comodo became the largest SSL certificate provider, which offers Domain Validation, Organization Validation, Extended Validation, Code Signing, etc. Comodo® offers the lowest price SSL certificate along with 24/7 hours live SSL support to help customers quickly and easily on the Internet.
Read Comodo SSL Certificate Reviews listed below will provide you a better knowledge and sources whether it satisfying their customer's needs or it fails. These reviews are posted and been verified by trusted Comodo® Customers. You will find Comodo®'s reviews on Various Products, Customer Experience, Support systems, SSL installation, SSL knowledge, etc…
If you are an existing Comodo customer and wants to share your experience on Comodo®'s SSL Security, please Write a Comodo SSL Certificate Review your review here which help others to understand about Comodo®'s stand in SSL industry.
Top Website/Business using Comodo SSL Certificates
Comodo® SSL Certificates
Comodo's Average Rating


4.5

out of

5

based on

14

reviews.

Overall rating:


Comodo SSL FAQs
Q1: Why Comodo SSL Certificate?
As per W3tech's recent survey on SSL Certificate Authority, they announced Comodo as world's most used SSL brand and most trusted Authority as well. This proves how Comodo have achieved this mark and why users are trusting Comodo more than others.
Q2: Does Comodo offers Code Signing Certificate?
Yes, Comodo is offering Code Signing certificate for both business and individuals, which means any one can buy Code signing from Comodo. Software/application/documents that is signed by Comodo is said to be secured, protected and not been tempered of changed since singed.
Q3: What is the quality of Comodo's customer support?
Comodo has team of web experts who carries knowledge on all website platforms, mobile platforms and server and dedicate to solve each customer queries within possible prior time. Comodo offers 24x7x365 day customer support with (1) live chat with sales team or with support team (2) support via Ticket system (3) support via social media
Q4: What SSL Certificate Comodo Offers?
Since 2015, Comodo has become world's #1 trusted certificate authority which is dedicated to offers all types of SSL certificate for their dedicated customers including domain validated SSL, Organization Validated SSL, Extended Validated SSL, Code Signing Certificates. It also offers Multi-domain, Wildcard and UCC SSL certificate for multi domain and sub-domain security.
Q5: Do Comodo offer any single certificate which secure multiple domain and sub-domains?
Yes, Comodo offers Multi-Domain Wildcard SSL Certificate, this single certificate can secure multiple fully qualified domain names (up to 100) and their unlimited number of sub-domains. It is available for both domain validation and business validation.
Q6: Does Comodo Supports Microsoft exchange and office communication server?
Yes, Comodo supports Microsoft Exchange server and Microsoft Office Communication server. Comodo's UCC SSL Certificate offers this functionality. Comodo's UCC SSL Certificate is highly recommended by web experts to secure Microsoft exchange and office communication server. It is also available for both domain validation and business validation.
Official Contact Information of Comodo
Website URL: https://www.comodo.com/
Official Address: Clifton, New Jersey, United States
BBB.org review for Comodo
Social Presence of Comodo
Twitter: 8,033 followers
Facebook: 149,060 likes
Google+: 3,054 followers
LinkedIn: 7,832 followers
YouTube: 700 Subscribers
Comodo SSL Reviews
4.5

out of

5

based on

14

reviews.
Overall rating: