Compare Wildcard SSL Certificates
Single Certificate Allows You to Protect Unlimited Sub-Domains
Wildcard SSL Certificates are aimed to secure a domain name along with its unlimited number of sub-domains. Whether it's a domain validated Certificate or a business validated certificate, wildcard SSL functions works on both. Wildcard can secure only first level sub-domains which means the issuer must buy wildcard SSL certificate for *.domain-name.com to secure unlimited sub-domain of domain-name.com.
Single Wildcard SSL Certificate can secure
www.domain-name.com
domain-name.com
*.domain-name.com
blog.domain-name.com
news.domain-name.com
anything.domain-name.com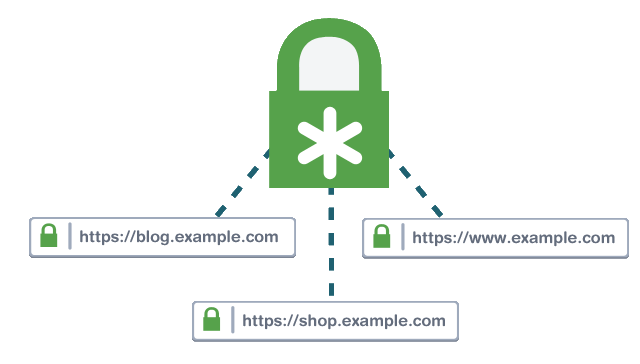 If a user wants to secure anything.blog.domain.com; this is a case of 2nd level domain security, so he needs to purchase the wildcard SSL Certificate for *.blog.domain.com. Now he can secure any number of sub-domains for blog.domain.com.
Why Wildcard SSL Certificates?
One of the main reasons for having a Wildcard SSL/TLS Certificates is that it secures a domain and its unlimited number of sub-domains. It helps the user to save his valuable time and money as well, so he doesn't have to buy a new SSL certificate for individual domains. Apart from this, Wildcard SSL Certificate's price is very much low compared to Multi-domain and Extended Validation SSL Certificates.
It is a useful and practical solution for the fastest growing field of e-commerce websites security on the web. Wildcard SSL Certificate allows many first levels sub-domains security, which means one primary domain and multiple subdomains. Its reasonable solution for a small and medium scale online business websites security who demands user's sensitive information. It's always best practice to have the best wildcard certificate with the unlimited server so that a single certificate can work on the multiple web servers too.
So, a website with multiple sub-domains, a cheap Wildcard SSL Certificate is a perfect option.
Pros of Wildcard SSL Certificates
Unlimited number of sub-domains security
Pay less, Secure more
Easy to manage
Cons of Wildcard SSL Certificates
Cannot secure multi-level sub-domains

Not available in Extended Validation option
Here's you can compare Wildcard SSL Certificates which includes SSL Brand Name, CA Rating, Price, Encryption level, Free features, customer support, and customer reviews. This comparison will help the user to get the best wildcard SSL Certificate for their website. If the user still doesn't satisfy with Wildcard SSL comparison table, he should visit SSL Wizard to understand which SSL he should buy.
Compare Wildcard SSL Certificates from Top SSL Brands
Main Features
Comodo Positive SSL Wildcard
RapidSSL WildCard
Thawte Wildcard SSL
GeoTrust True BusinessID Wildcard
Certificate Authority
Comodo
RapidSSL
Thawte
GeoTrust
1 + all one level sub-domains
1 + all one level sub-domains
1 + all one level sub-domains
1 + all one level sub-domains
$72.31/yr
$129/yr
$349/yr
$384/yr
domain.com,
www.domain.com,
login.domain.com,
mail.domain.com
domain.com,
www.domain.com,
login.domain.com,
mail.domain.com
domain.com,
www.domain.com,
login.domain.com,
mail.domain.com
domain.com,
www.domain.com,
login.domain.com,
mail.domain.com
Personal Websites/Blogs
Personal Websites/Blogs
Small/Medium Businesses
Small/Medium Businesses
Domain
Domain
Organization
Organization
Within Minutes
Within Minutes
1-3 business days
1-3 business days
up to 256-bit
up to 256-bit
up to 256-bit
up to 256-bit
2048 bits
2048 bits
2048 bits
2048 bits
Medium
Medium
High
High
Domain name displayed on certificate details
Domain name displayed on certificate details
Business name displayed on certificate details
Business name displayed on certificate details
Unlimited
Unlimited
Unlimited
Unlimited
$10,000
$10,000
$12,50,000
$12,50,000
30 days
30 days
30 days
30 days
99%
99%
99%
99%