Entrust SSL Certificate Reviews
Read Entrust SSL Certificates Reviews by 100% Verified Entrust Customers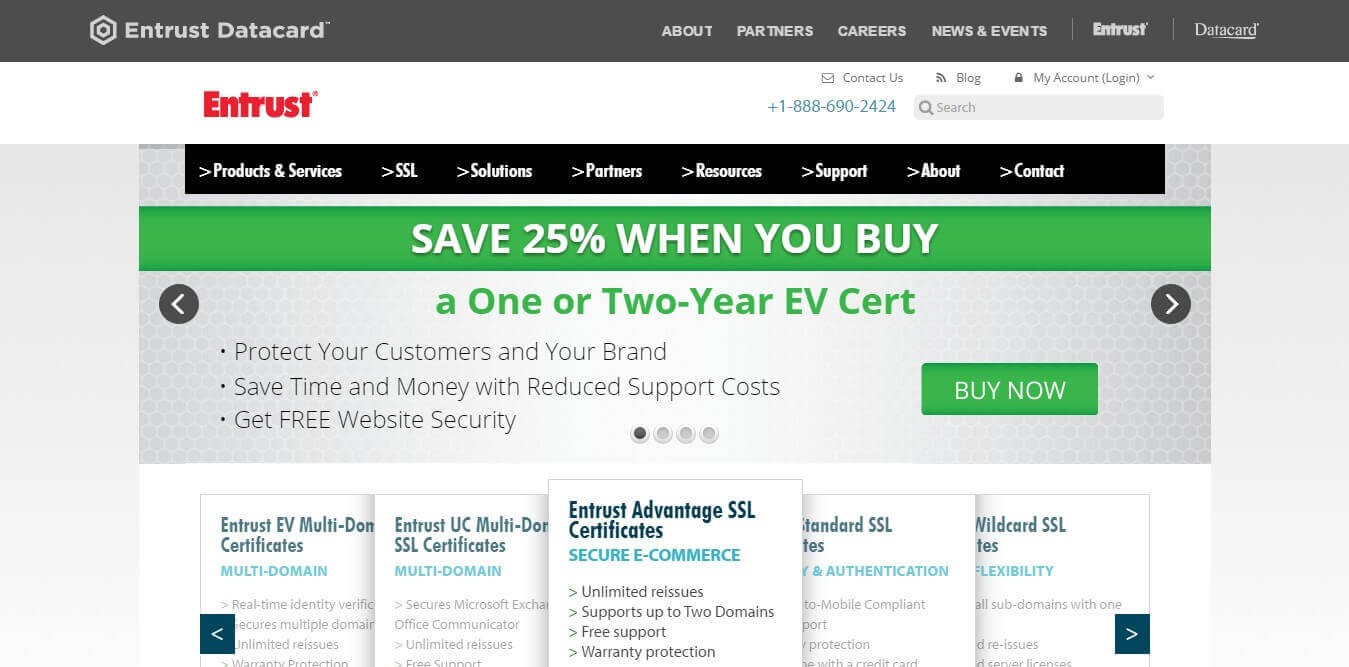 Entrust® Inc., is a privately owned software business which offers security software & services in
PKI
industry including SSL Certificates, fraud detection software, mobile authentication and Digital certificates. Entrust® Inc., is an international business which is popular in about 60 countries.
In the field of digital security, Entrust offers various types of SSL certificates for website and software security. Entrust® have Standard domain validation SSL, Organization & Extended validation SSL certificates along with features of Multi-domain, Wildcard & UCC. Entrust® SSL Certificates are designed for strong encryption and high customer trust which makes it a successful CA (Certificate Authority). Entrust® also offers Code Signing, Document Signing & PDF signing certificate for their customers.
Entrust SSL Certificate reviews listed below will provide you a better knowledge and sources whether it satisfying their customer's needs or it fails. These reviews are posted and been verified by trusted Entrust® Customers. You will find Entrust's reviews on Various Products, Customer Experience, Support systems, SSL installation, SSL knowledge, etc…
If you are an existing Entrust customer and wants to share your experience on Entrust®'s SSL Security, please Write an Entrust SSL Certificate Reviews here which help others to understand about Entrust®'s stand in SSL industry.
Top Website using Entrust SSL Certificates
Entrust's Average Rating
☆☆☆☆☆

3.4

out of

5

based on

5

reviews.
Overall rating:

Entrust SSL Certificates Features & Prices
| | | | | |
| --- | --- | --- | --- | --- |
| SSL Certificate | Validation | Issuance Time | Price/Year | Reviews |
| Standard SSL Certificate | Domain + Organization | 1-2 Days | $163 | 3.5/5 |
| Advantage SSL Certificate | Domain + Organization | 1-2 Days | $196 | 4/5 |
| Wildcard SSL Certificate | Domain + Organization | 1-2 Days | $573 | 2/5 |
| Private SSL Certificate | Domain + Organization | 1-2 Days | $122 | 3.5/5 |
| EV Multi-Domain SSL | Domain + Extensive Organization | 1-5 Days | $280 | 3/5 |
| UC Multi-Domain SSL | Domain + Organization | 1-2 Days | $262 | 3/5 |
Q1: How Entrust Secure Email Certificates works?
For Entrust Secure Email Certificate, the Signer digitally signs the email and attachments. Now for encryption process both party need x.509 s/mime certificate and private key to decryption. Entrust Secure Email Certificates assures the email and the attachment is not being altered or tempered since its signed.
Q2: How to issue Entrust EV SSL Certificate?
Entrust Extended Validated SSL certificate offers the highest level of encryption & trust and it also displays the green address bar with the business name, this generates brand value among customers and internet as well. After buying Entrust EV SSL Certificate, the issuer needs to submit business documents and once Entrust team approved business documents they will issue the Certificate.
Q3: Is Entrust a reputed SSL Authority?
Obviously Entrust is a reputed SSL Certificate authority; Entrust is member of CA/B forum which handles SSL Certificate Authority and browsers. CA/B forum members are only considered as trusted Certificate authority so Entrust it. Entrust's root certificates are also added into every browser's trusted sources.
Q4: What is Entrust UC Multi-Domain SSL Certificates?
Entrust UCC (Unified Communication Certificate) Multi domain is Microsoft approved SSL certificate which is generally used to secure Microsoft Office Communication and Exchange server. It can secure up to 250 multiple fully qualified domains. It is featured with unlimited server license and reissuance including 99.99% web and mobile browser compatibility.
Q5: Which documents an Entrust document signing certificate can sign?
Entrust document signing certificate is designed to sign document digitally so user can share information without any hassle of tempering. It can secure Adobe files and Microsoft office documents. Any business or individual can make use of this certificate.
Q6: How to ensure website is encrypted with Entrust SSL?
When the user accessing a website or processing for transactions, they will find an Entrust Seal at the bottom of the website. The user just need to click on it. Now a popup will appear which displays the certificate information. This proves whether the website is genuine or not and whether trusted by Entrust.
3.4

out of

5

based on

5

reviews.

Overall rating: