GoDaddy SSL Certificate Reviews
Godaddy SSL Reviews to Help Users in Purchase Decision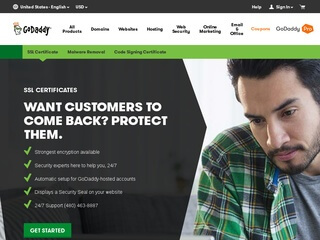 Founded in 1997, GoDaddy® is one of the biggest domain registrar and web hosting company. GoDaddy® also started providing SSL Certificate to their customers for business and individual use.
GoDaddy® SSL Certificates comes up with strong 2048-bit encryption technology, 24×7 high end support, full use trust level, etc… It offers domain SSL certificate for website security and code signing certificates for software/app security. GoDaddy® SSL are used to secure server communication, user's sensitive information, customer transactions, user credentials, etc…
GoDaddy SSL Certificate reviews listed below will provide you a better knowledge and sources whether it satisfying their customer's needs or it fails. These reviews are posted and been verified by trusted GoDaddy® Customers. You will find GoDaddy®'s reviews on Various Products, Customer Experience, Support systems, SSL installation, SSL knowledge, etc…
If you are an existing GoDaddy® customer and wants to share your experience on GoDaddy®'s SSL Security, please Write a GoDaddy SSL Certificate Reviews here which help others to understand about GoDaddy®'s stand in SSL industry.
Top Website using GoDaddy SSL Certificates
GoDaddy's Average Rating
3.6

out of

5

based on

5

reviews.
Overall rating:


GoDaddy SSL Certificates Features & Prices
| | | | | |
| --- | --- | --- | --- | --- |
| SSL Certificate | Validation | Issuance Time | Price/Year | Reviews |
| Standard DV SSL | Domain | Within minutes | $69.99 | 4.2/5 |
| Deluxe OV SSL | Domain + Organization | 1-3 Days | $99.99 | 3.8/5 |
| Premium EV SSL | Domain + Full Organization | 1-5 Days | $149.99 | 3/5 |
| UCC/SAN SSL | Domain | Within minutes | $149.99 | 3.5/5 |
| Wildcard SSL | Domain | Within minutes | $299.99 | 4/5 |
| Code Signing | Domain + Organization | 1-3 Days | $199.99 | 3.9/5 |
Q1: How to verify GoDaddy SSL Certificate information?
To verify GoDaddy SSL Certificate information, just open
SSL Checker Tool
. This will provide information whether SSL is installed on server or not, it also displays IP address, Organization name, server name, validity period, Certificate Authority Name, Location, signature Algorithm.
Q2: How to Download GoDaddy SSL Certificate and GoDaddy Root certificate?
To download GoDaddy SSL certificate; sign in into GoDaddy account manager, now click on SSL certificate > Manage > Actions > View Stats > Download, select your server type and then click on Download Zip File.
To download GoDaddy Root Certificate visit here.
Q3: How to Generate CSR for GoDaddy SSL Certificates?
To generate CSR for GoDaddy SSL, first login into your SSL terminal and then in prompt add following line "openssl req -new -newkey rsa:2048 -nodes -keyout yourdomain.key -out yourdomain.csr", now here add respective details and your CSR will be generated, or else you can use CSR generator Tool which automatically generates CSR by adding correct information.
Q4: What SSL Certificate GoDaddy offers for E-commerce solution?
Security of e-commerce website is always a challenge for Certificate Authorities and by accepting it GoDaddy offers EV SSL Certificate called as Extended Validated Certificate which enables green color address bar and also displays organization name in URL along with. GoDaddy EV SSL indicated the e-commerce business is protected under extended security premises and there will be no harm of sharing financial information with website.
Q5: How GoDaddy Malware removal works?
GoDaddy Malware removal tool is widely used on e-commerce and banking platforms, it scans website daily and keeps user information safe. It searches for malware and vulnerability activities suspiciously and reports immediately. GoDaddy malware removal comes up with Spam and search engine blacklist monitoring features.
3.6

out of

5

based on

5

reviews.

Overall rating: