SwissSign SSL Certificate Reviews
Buyer's feedback for SwissSign SSL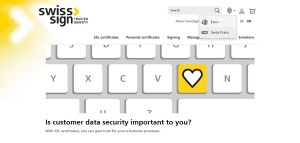 SwissSign is a trusted certificate authority provides SSL certificate to their worldwide customers. It is a subsidiary business of
Swiss Post
which provides secure communication, digital signature
and
unique identification solutions.
As being a trusted SSL Certificate authority, SwissSign offers Standard SSL, Wildcard SSL, SAN/UCC SSL, EV SSL and Email certificate along with high end 24×7 quick support. SwissSign SSL Certificates are valid for small/large scale organizations and individuals.
SwissSign SSL Certificate reviews listed below will provide you a better knowledge and sources whether it satisfying their customer's needs or it fails. These reviews are posted and been verified by trusted SwissSign Customers. You will find SwissSign's reviews on Various Products, Customer Experience, Support systems, SSL installation, SSL knowledge, etc…
If you are an existing SwissSign customer and wants to share your experience on SwissSign's SSL Security, please write a SwissSign SSL certificate Reviews here which help others to understand about SwissSign's stand in SSL industry.
SwissSign SSL Certificates
SwissSign's Average Rating
☆☆☆☆☆

3.4

out of

5

based on

5

reviews.
Overall rating: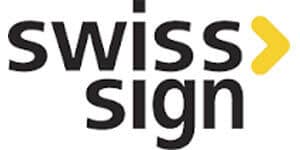 SwissSign SSL Certificates Features & Prices
| | | | | |
| --- | --- | --- | --- | --- |
| SSL Certificate | Validation | Issuance Time | Price/Year | Reviews |
| SSL Gold EV | Domain + Full Organization | 5-10 Days | $599 | 2/5 |
| SSL Gold | Domain + Organization | 1-2 Days | $299 | 3.1/5 |
| SSL Silver | Domain | Within minutes | $169 | 3.9/5 |
| Wildcard SSL | Domain + Organization | 1-2 Days | $699 | 3.3/5 |
Q1: On how many servers I can install my SSL Certificate?
Any SwissSign SSL Certificate comes up with unlimited server license policy which means you can install it on any number of server.
Q2: Which types of SSL Certificate SwissSign offers to customers?
SwissSign is a famous SSL certificate authority which offers Extended validation certificate, Multi Domain Certificate, Unified Communication (UCC) certificate and Wildcard SSL certificate to their customers.
Q3: What information will SwissSign display on an Organization Validated SSL Certificate?
SwissSign OV SSL certificate display information of the Organization along with Branch or Department, Headquarter Country and town name.
Q4: How to Generate CSR for SwissSign Certificates and how I can verify SSL certificate installation?
To generate the CSR for SwissSign SSL Certificate, first open the CSR Generator and add correct required information, once you get the CSR and private key, keep them secured in a specific location.
To verify SSL Certificate Installation, check SSL Checker tool. This will display whether the certificate is installed properly or not.
Q5: Which SwissSign SSL Certificates are recommended for Outlook Web Access?
For Outlook Web Access you can install either Silver, Gold or Gold Extended Validated SSL certificate based on your security needs.
Q6: Where to download Intermediate SSL Certificate?
SwissSign SSL Reviews
3.4

out of

5

based on

5

reviews.
Overall rating: