Comodo InstantSSL Pro Certificate Review – Learn its Features & Benefits
Secure Your Website with Cheap and Efficient Comodo InstantSSL Pro Certificate
Comodo Certificate Authority offers a wide range of SSL certificates for website security. If you do not want to put a dent on your pocket while also making sure that your website is secure, go for an SSL certificate from Comodo. Thousands of businesses including e-merchants, small and large enterprises have so far been secured by SSL certificates from Comodo. Likewise, Comodo's team works day and night to ensure that website visitors are safe while they browse online.
Introduction of Comodo InstantSSL Pro Certificate
If you have to stick to a budget but also want to encrypt your website with an SSL from the world's biggest certificate authority, Comodo InstantSSL Pro is the best option. Comodo InstantSSL Pro is an Organization Validated (OV) certificate which best suits the needs of larger websites like e-commerce websites, government websites and other websites that aim at increasing conversion rates on their websites.
Comodo InstantSSL Pro comes with 128/256-bit encryption strength and 2048-bit signature key. This certificate comes with a dynamic Comodo Secure site seal and a $1,00,000 warranty, which is more than enough to win your customers' trust and to make sure that your investment is protected. This certificate will encrypt your website and authenticate your business and server, as well. For your website to be issued one of these certificates, you will have to prove that your business is legitimate.
Business/Organization Validation Process

If you wish to purchase the Comodo InstantSSL Pro certificate, there is a business validation process you will need to go through. This validation process would take between one and three days. Once the validation process is complete, the green padlock will appear on the address bar and "https" will be enabled. Likewise, the Dynamic Comodo Secure Site Seal will also appear.
The validation process involves three steps, where you will first confirm the ownership of the domain, validate your business via government databases and then go through the callback process to verify the real existence of your business. The whole process will take around three days to complete.
Visitors to your website will be able to view your certificate details that include your business information when they click on the browser "padlock" that will get activated once the certificate is installed. These details will help your visitors understand that yours is a legitimate business.

Comodo offers a free dynamic trust seal that will help you show people who visit your website that the website is trustworthy and that their data is protected. Visitors who trust your website are more likely to make a purchase. So, this site seal will not only protect data but also maximize customers and sales. Apart from that, this site seal displays the address, phone number and the name of the company.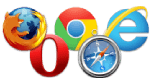 Almost all browsers and mobile devices recognize Comodo InstantSSL Pro certificates. You don't have to worry about the latest versions of the browsers as this certificate is recognized by almost 99.6 percent latest version browsers.
Comodo InstantSSL Pro Certificate – Features
Business validated certificate
128/256 bit encryption
2048 bit trusted SSL Certificate
Great option for government, e-commerce and other websites looking to increase conversion rates
Trusted by almost all popular browsers
$100,000 Warranty
Compatible on almost all mobile devices
Get an unlimited number of free physical server licenses
Free 'Comodo Secure' site seal
Get PCI scanning service and daily website vulnerability scanning free for 1 year
Boost SEO rankings
30-day risk-free money back guarantee
24/7/365 day customer support via phone, mail and web support
Why Choose Comodo InstantSSL Pro?
Comodo is one of the world's largest SSL certificate providers that has issued more than 100 million certificates, since 2005. Top fortune 500 companies use Comodo branded SSL certificates. One of the most trusted brands, Comodo offers a wide range of SSL certificates suitable for businesses of all sizes.
If you think your business must be trusted just like one of the top companies, go for Comodo certificates. Whether you are a small business or a larger one, you will find a security solution that best matches your needs. While you protect your website with an SSL certificate from one of the largest SSL providers, you also save money and earn your customers' trust.
Does your website collect sensitive data from customers? If yes, go for Comodo InstantSSL Pro certificate, without any further delay!
Where to find Comodo InstantSSL Pro Certificate at Cheap Price?
Instant SSL Pro Certificate
1 domain
Organization Validation
Company name in SSL
Free Comodo Site Seal

Note: COMODO CA IS NOW SECTIGO! You can get the Same Security, Same Features for SSL Certificates. If you want to purchase Comodo/Sectigo SSL Certificates at discounted price, just visit our SSL Coupons.
Other Comodo SSL Product Reviews: