Network security seems easy, but it's not. Essential applications and security tools are involved in guarding the computer and network. It's a long chain work.
What is Network Security?
Network security is a process created to protect the usability and integrity of your network and data. Both hardware and software technologies are included in it. If you have effective network security, it'll easily manage access to the network connection. It keeps
monitoring various threats
& challenges and detects them when they enter or spread on your network.
How does Network Security Works?
It is a combination of multiple layers of defences in the network. Each layer has its policies and controls to implement. It attacks or blocks the malicious actors who try to exploit the connection or hit the private details.
There are various options available that you can adapt to save the network or wrap your confidential things with adequate information.


What is Application Security?
Application security engages the complete process and powerful tools to secure the software. It is an effective technique to protect the apps once they are waked up in the world of technology. It is becoming essential for the network because day by day, hackers are targeting applications with their severe attacks.
It is an attention seeker procedure. The uncountable tools are deployed to escort the various parameters of your applications such as auditing permissions, access rights, evaluating encryption options and more. These tools are mostly employed for web applications and apart from this, it can also work for mobile apps and network-based applications.
Daily new threats emerge to hit the applications and in the competitive world, high-security solutions are the demand of the network. Ultimately, it indicates application reliability is vital for the concept. Let's see why it's important.
In the software development process, application security can quickly fix the issues. There are many mistakes we create in our coding process and in case hacker finds them they can leak the remaining code too. With this aspect, safety is highlighted point to keep the code and data under the cover.
Moreover, security makes the process & workflow simpler and easier to accomplish without undue interferences. Gone are the days, where the IT sector or other professionals spend half of the time on constructing refined tools and then deliver a renovated product to an endpoint.
The high-quality network accessories are also an important part of making better security in the longer run. Without these types of equipment, you can't take a step to create security tools or use it to protect the information.
Let's elaborate a few security tools.
Open Source Software Security Tools
1. Gnu PG: Guarding Your Privacy
It is primarily used for file and email encryption process. Stronger encryption means network security will be powerful.
This is inserted in the command line. It helps in saving data by engaging GPG to create public and private keys in the backup server. And then these keys are imported to all data servers which help with backup service and encrypt it when required.
2. Truecrypt: A Real Solution
For disk-level encryption, Truecrypt is a good security tool. It is used for disk encryption. It's a very convenient option because it automatically encrypts data before it's stored on the disk and even decrypts it properly after its being loaded from the disk.
The essentials of network security are as follows:
To improve security more effectively,
1. The Software Should Be Up to Date
Older versions of software of your website are one of the major threats towards the safety steps. This unsupported or unpatched software makes the path easier for hackers to attack and exploit functions, which also ruins the reputation of a business.
The software should be up to date to maintain the safety of your connection. It is one of the serious factors which help in improving network security.
2. Analyse and Detect Threats
All your devices, files, application, software and databases must go through an analysis process for threat detection. It is one of the best practices to implement in your network to make it more reliable. Frequently monitor these devices and real-time alerts will improve security insight in your connection.
3. Detect and Track End Points of Each Device
Enhance the network safety by detecting, monitoring and tracking all the end points of your devices. Regularly monitor switch ports as a switch is a suspect device attached to your connection. Analyse what type of device is – laptop or computer, details like IP address, user login or not and other login histories. Keep an alert when a device is connected to switch.
A reliable antivirus is a good choice for all the devices such as laptops, smartphones and computer. Go with an antivirus which can successfully scan data coming from different sources. The open source antivirus needs a regular update to catch malware, viruses and deadly Trojans, whereas the paid antivirus is also available in the market which comes with an expiry time. Means paid antivirus has a specific period to detect the threats. And once it gets expired, it needs to be renewed or replaced.
The main agenda of these essentials is to protect your data from being stolen or leaked. Loss of data is not affordable at any cost. Additionally, it will influence the business and put a dent on overall business reputation. Precautions are better than cure, so take constructive steps instead of regretting on the loss of data or corrupted code. Lastly, make sure you're using the superior quality of network equipment to give a boost in overall security.
About Chris George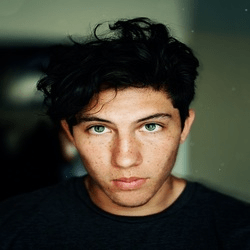 Chris George is an enthusiastic content strategist and he mainly works for connecting technology and networking to enhance their networks and even he creates some innovative content that helps our readers. He's expert in latest networking technology, computer networking accessories, and security-related topics, etc.