Coronavirus (COVID19): Most Common Cybersecurity Threats
As COVID-19 Fear Is Growing, So As the Coronavirus-Themed Scams
The whole world is shocked by the Coronavirus pandemic, and most of the countries are even forced to go into lockdown to avoid countless cases of COVI-19 happening daily. Many are also trying to figure out if it's possible to work from home, managing finances, taking care of their children and loved ones, and looking after their health.
Unfortunately, that's not enough, and there's one more thing which everyone has to watch out for in this disastrous time – keeping yourself safe from online threats and scams done by cyber crooks. Yes,
cybersecurity scams related to Coronavirus is real
, and it's happening. These selfish cybercriminals are busy scamming innocent people while the whole world is together for battling this
Novel COVID-19
.
Examples of Commonly Seen Malicious Messages
GOV.UK themed fake text message titled as 'You are eligible to get a tax refund (rebate) of 128.34 GBP'.
Advertisement regarding hand sanitizers and masks via malicious websites.
Fake Social Media and Email Messages impersonating medical expert bodies like NHS, CDC (Centre for Disease and Control) and WHO (World Health Organization), asking for a donation to research regarding Coronavirus.
No doubt, it's a time for everyone to come together and help one another, but it's a harsh truth that these scammers who are an ordinary human being like you and me are busy in causing trouble.
However, to help you keep safe online and avoid such incidents, below is the list of some commonly seen COVID-19 scams and tips to help you that everyone should watch out for.
Different Types of Coronavirus Related Cybersecurity Scam
Phishing Emails are on the rise from decades, and it's one of the old-age attacks. And, this time, it's no different; cybercriminals are not staying behind on taking advantage of this situation. Reportedly, many cybercriminals are coming forward by impersonating themselves as national authorities or health officials of the WHO (World Health Organization), the CDC (Centers for Disease Control), or others. For example, one fake email which looked sophisticated and convincing that it's sent by WHO (World Health Organization), and it offers tips on how to avoid falling ill to this new novel COVID-19. And, once the user clicks on the link provided in that email, it'll redirect to a malicious website which steals personal information.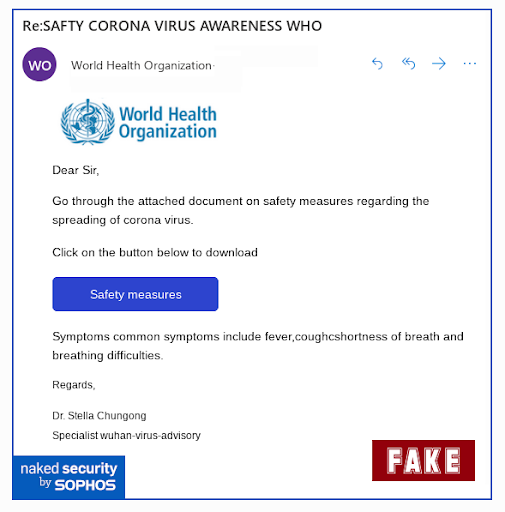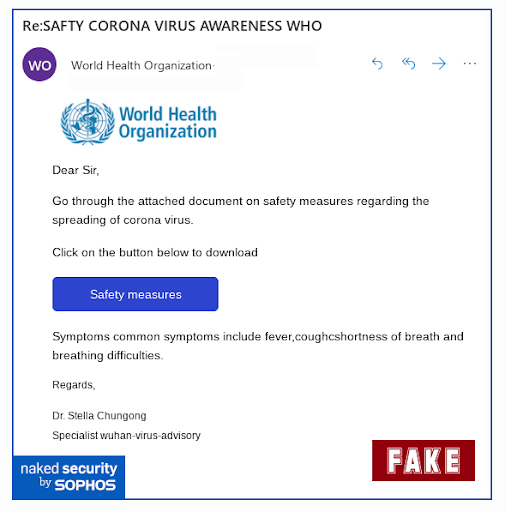 However, you won't be able to avoid these types of scam emails coming to you, but yes with a little precaution, you can stop falling victim to these types of bogus emails by following some of the simple steps, such as:
Verifying the sender's email address with the original one.
Check if there are any spelling mistakes.
Instead of clicking the link given in an email, visit the website directly. For example, visiting the WHO website, rather than clicking the given link.
Avoiding the transfer of money that asks for a donation, and if you wish to donate or help, you can even look for charity websites or health organizations directly.
2. Malicious and Fake Websites
It's one of the
common threats
that are designed for playing on uncertainty and fear. Yes, cyber crooks have made many fake websites related to
Coronavirus
that claims to provide remedies or pharmaceuticals like vaccines, testing kits, and other fake health solutions. The main motive behind creating such a fake website is to get bank details, hack the computer, or install malware on the systems of anxious victims.
To avoid such scenarios, some of the things you can do are like:
Verify whether the website has a secure connection. You'll get to know if the URL starts with the HTTPS (SSL/TLS Certificate).
Check whether the installed SSL/TLS Certificate is provided by the branded certificate authorities like Comodo or Sectigo, which can be checked by clicking on the padlock, seen at the top address bar, because usage of free SSL/TLS certificate for fake websites are on the rise these days.
Check whether the website is poorly designed and also look for spelling errors.
Check whether the website is selling in-demand products at a low price, then it's highly possible it's a scam.
3. App Scams: Fake Coronavirus Maps
Cybercriminals haven't left behind when it comes to attacking smartphones by making fake apps regarding Coronavirus. Be careful and avoid downloading such fake Android apps that claim to provide safety masks, maps showing cases along with present statistics of the spread of novel COVID-19 near your area.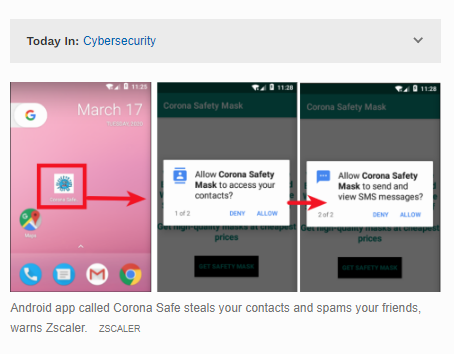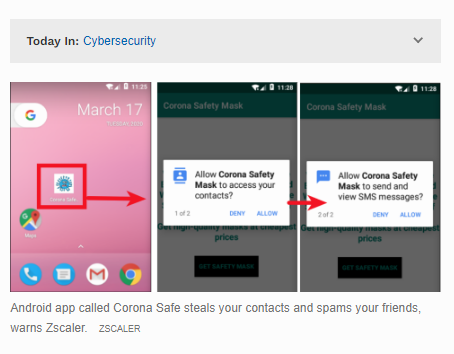 Because, once you download on your tablet or phones, it may install malware or compromise your device, personal information stored within. In some instances, that downloaded app can even lock out victim's devices while demanding a ransom to get back the access or delete all the information stored within.
Scammers and cybercriminals know how much time a person spends on social media platforms like Facebook, and it's quite easy to make posts viral. Therefore, they've already created random Facebook groups that claim to offer home remedies for this deadly novel COVID-19 and even Twitter threads are there from self-proclaimed health experts. In reality, it's a scam-bait, and it's best to stay aware of and avoid it.
5. Seller & Buyer Scams on Shopping Portals
In this pandemic era, selling of fake masks, remedies to treat Coronavirus is on the rise. According to Forbes, Amazon found and removed 1M+ sellers with their fake products and claims regarding this novel COVID-19. So, it's self-explanatory, be cautious, and don't trust anyone blindly in this digital world.
The fear of this COVID-19 pandemic is real, and due to this, there's a high chance, and it's even happening that people share the information which is not true at all, without verifying, which they get through social media or messaging apps. So, you should confirm whether the information you're about to share is correct.
Here's How to Protect From COVID-19 Cyber Threats
Go through below tips and learn how to stop being a victim to these threats:
If you receive an email from an unsolicited source, it's best to verify the email address of the sender and verify whether the contact name matches the email address through which you've got the email. Also, avoid opening attachments or clicking links, if you've received in that mail.
Watch out if they're asking for any sensitive information such as password or payment credential because legit organization never asks such things through email.
If you're purchasing anything online, double-check from whom you're doing so, as selling of fake Coronavirus related products is on the rise.
If you're about to donate to charity or organization that claims to raise funds for helping people, its best, you research about it before doing so.
Don't trust someone blindly online who claims to offer vaccinations or home test kits. Instead, contact the trusted doctor, if you have any issues.
If you're visiting any website regarding this pandemic COVID-19, check if there's any typographical error in the domain name, as there are many websites on large that look legit, but it's fake.
Don't share the news with others on social media platforms or messaging apps till you verify and make sure that it's accurate and not any hoax.
Unfortunately, these cyber crooks are not going to stop, and it's for sure that COVID-19 related scams are only going to rise in the coming time. So, you should take precautions and avoid becoming victim to it by staying safe online and practicing healthy online habits, instead of crying later on that how in the world someone can do like these in such a terrible time.