100% Verified Customer's GeoTrust SSL Reviews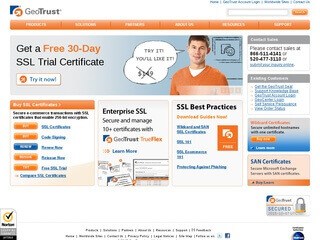 GeoTrust® is one of the largest SSL Certificate providers established in the year 2001, and now it's owned by Symantec. GeoTrust® secured more than 100,000 domains over the web world of about 150 countries.
GeoTrust Certificate Authority (CA) assures online customer security with their numerous SSL products such as QuickSSL Premium, True BusinessID, True BusinessID with EV, True BusinessID Wildcard, True BusinessID with Multi Domain (SAN/UCC), True BusinessID with EV Multi Domain (SAN/UCC), Web Site Anti-Malware Scan. The above listed GeoTrust SSL certificates are available in different types such as Domain Validation, Organization Validation and Extended Validation.
All GeoTrust SSL Certificates contain the wide range of premium features such as the highest level of 256-bit SSL encryption with 2048-bit root signature support, unlimited server licenses, dynamic trust seal, web and mobile browser compatibility and also there is an opportunity for customer that the bulk pricing option is available for Partner as well as enterprise-level users and customers with free world-class 24/7 SSL expert support. A GeoTrust customers share their reviews about GeoTrust SSL certificates and we have researched on them for the best ratings about GeoTrust SSL products, services, refund policy, etc.
If you want help regarding an SSL certificate selection, then here is an incredible solution for you, and we name it SSL Wizard. It will help you to find the right SSL certificate provider with premium features of SSL security such as GeoTrust SSL certificates.
If you are an existing GeoTrust customer and wants to share your experience on GeoTrust® SSL Security, please Write a GeoTrust SSL Certificate Review here which help others to understand about GeoTrust® stands in SSL industry.
GeoTrust SSL Certificates
GeoTrust's Average Rating


4.8

out of

5

based on

8

reviews.

Overall rating:
GeoTrust SSL Certificates Features & Prices
| | | | | |
| --- | --- | --- | --- | --- |
| SSL Certificate | Validation | Issuance Time | Price/Year | Reviews |
| QuickSSL Premium | Domain | 5-10 Minutes | $65 | 5/5 |
| True BusinessID | Domain | 5-10 Minutes | $83 | 5/5 |
| QuickSSL Premium SAN | Domain | 5-10 Minutes | $95 | 4/5 |
| True BusinessID with EV | Extended | 1-5 Days | $149 | 5/5 |
| True BusinessID Multi-Domain | Organization | 1-3 Days | $204.67 | 5/5 |
| True BusinessID Wildcard | Organization | 1-3 Days | $366.33 | 5/5 |
| Multi-Domain with EV SSL | Extended | 1-5 Days | $323.50 | 5/5 |
| Web Site Anti-Malware Scan | Domain | 5-10 Minutes | $74.17 | 4/5 |
| QuickSSL Premium Wildcard | Domain | 5-10 Minutes | $232.50 | 4/5 |
GeoTrust SSL FAQ
Q1: How to Download GeoTrust Root Certificate?
If you have purchased any GeoTrust SSL certificate, then you can download GeoTrust Root certificate for free. Learn from here, how to Licensing, Downloading and using GeoTrust root Certificate – https://aboutssl.org/geotrust-root-certificates-licensing-and-use.
Q2: Does GeoTrust offers Code Signing certificate?
No, GeoTrust do not offers code signing certificate. It only offers SSL Certificate for website security as Domain validated SSL, Organization validated SSL and Extended validated SSL certificates.
Q3: Is it possible to install GeoTrust SSL on multiple server?
Yes, you can install GeoTrust SSL Certificate on any number of server, as it comes up with unlimited server installation policy.
Q4: How long it takes for GeoTrust team to issuer SSL Certificate?
For domain validation GeoTrust team takes only minutes, for organization validation they usually take 2-3 business days and for extended validation they are taking about 3-5 business days. Learn about what type of SSL Documents GeoTrust requires for OV and EV validation.
Q5: Which EV Documents GeoTrust Team asks for validation?
To issue EV SSL Certificate from GeoTrust issuer need to submit business documents to GeoTrust. GeoTrust is generally ask for Legal business details, Operational Existence Confirmation, phone number validation, Address Confirmation, Domain Authentication & validation, etc. Learn what EV SSL Certificate documents GeoTrust may ask for.
Q6: How validated business with GeoTrust?
GeoTrust is one of the top most SSL certificate authority and also suggested by many web security experts. GeoTrust offers True BusinessID SSL certificate for their customers to validate their business. They also offers EV SSL certificates for E-commerce, Banking, Social media etc. related platforms.
Official Contact Information of GeoTrust
Website URL: https://www.geotrust.com/
Official Address: Mountain View, CA 94043-2202, USA
Social Presence of GeoTrust
Twitter: 1,371 followers
Facebook: 9,470 likes
LinkedIn: 463 followers
YouTube: 82 Subscribers

4.8

out of

5

based on

8

reviews.
Overall rating: