Single Wildcard SSL Certificate for Sub-Domains Security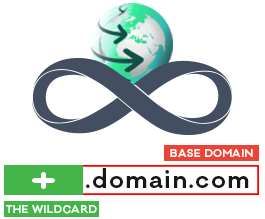 Wildcard SSL certificate is designed to secure a domain name along with its unlimited number of sub-domains, which means a user can protect any number of sub-domains under single certificate. Wildcard feature included in an SSL certificate saves user's valuable time for managing SSL and also saves money as well. If a user owns a website with multiple sub-domains, a wildcard SSL certificate is the best option to secure them in one go.
To secure a domain and its sub-domains, user need to apply SSL for *.domain-name.com; here * carries unlimited sub-domain security feature which is called as first level wildcard domain security.
A Wildcard SSL is available with domain validated and organization validated SSL certificate and it can secure both www and non-www domains. Wildcard SSL with domain validation can only validate and secure domain name and & unlimited sub-domains. Wildcard SSL Certificate with Organization validation can validate business and secure domain name & unlimited sub-domains.
In case of DV Wildcard SSL Certificate no business documents are required and issued quickly within minutes, but in case of OV wildcard SSL Certificate, business documents are necessary and verification process can take up to 2-3 days. Here's the list of wildcard SSL certificate documents required for business verification process.
A Wildcard SSL Certificate comes up with strongest 2048-bit signature and 256-bit long encryption length. Its unlimited server license policy allows user to secure website on any number of servers. With unlimited reissuance process a user can reissue its certificate for any number of time. Trust seal in the corner increases user's trust and confidence level during online transactions and sensitive information sharing.
Drawbacks of Wildcard SSL Certificate
Not available with EV- If a user is search for EV SSL Certificate with Wildcard feature then it's not available.
No support of Multi-domain- During SSL management, a user can add a wildcard SSL domain as a Multi domain, but he cannot add a multi-domain as a wildcard SSL domain.
Video Tutorial – Wildcard SSL Certificate
Domain & Sub domains types Wildcard SSL can secure
*.domain-name.com
www.domain-name.com
domain-name.com
news.domain-name.com
blog.domain-name.com
anything.domain-name.com
Wildcard SSL Certificate Key Features
Secure unlimited sub-domains with a single SSL Certificate
2048 bit future proof SSL Certificates
Universally works with main browsers, mobile phones and devices
Unlimited Server Licensing
SHA-2 signed certificates with 256-bit encryption
Available with both DV and OV SSL
Compare Low Cost Wildcard SSL Certificate Price & Features from Top SSL Brands
| | | | | | |
| --- | --- | --- | --- | --- | --- |
| Brand | | | | | |
| Certificate Authority (CA) | RapidSSL | GeoTrust | Thawte | Comodo | Symantec |
| SSL Certificate | RapidSSL Wildcard | Wildcard SSL | Wildcard SSL | Wildcard SSL | Wildcard SSL |
| CA Rating | RapidSSL Reviews | GeoTrust Reviews | Thawte SSL Reviews | Comodo Reviews | Symantec Reviews |
| Pricing for 1 Year | $149 | $439 | $399 | $199 | $1,899 |
| Price – As Low As | $124/Yr | $366.33/Yr | $332.50/Yr | $165.67/Yr | $1,582.67/Yr |
| Domains Secured | Unlimited Sub-Domains | Unlimited Sub-Domains | Unlimited Sub-Domains | Unlimited Sub-Domains | Unlimited Sub-Domains |
| Issuance Speed | Withing a few minutes | 1-3 Days | 1-3 Days | Within a few minutes | 1-3 Days |
| Validation Required | Domain Validation | Business Validation | Business Validation | Domain Validation | Business Validation |
| Notification Level in Web Browsers | Domain Name Displayed | Domain name and Business Name Shown | Domain name and Business Name Shown | Domain name Displayed | Domain name and Business Name Shown |
| Encryption Strength | Up to 256 Bit | Up to 256 Bit | Up to 256 Bit | Up to 256 Bit | Up to 256 Bit |
| Browsers Compatibility | 99% + Most popular mobile devices | 99% + Most popular mobile devices | 99% + Most popular mobile devices | 99% + Most popular mobile devices | 99.9% + Most popular mobile devices |
| Include Site Seal | Included | Included | Included | Included | Included |
| Number of Free Reissues Allowed | Unlimited | Unlimited | Unlimited | Unlimited | Unlimited |
| Number of Server License | Unlimited | Unlimited | Unlimited | Unlimited | Limited |
| Free PCI Scanning | N/A | N/A | N/A | Yes | No |
| Free Daily Vulnerability Scanning | N/A | N/A | N/A | Yes | No |
| Malware Scan | N/A | N/A | N/A | N/A | Yes |
| Seal-in-Search | N/A | N/A | N/A | N/A | Yes |
| Support Options | Yes | Yes | Yes | Yes | Yes |
| Warranty | $10,000 | $1,250,000 | $1,250,000 | $250,000 | $1,500,000 |
| Refund Policy | 30 Days | 30 Days | 30 Days | 30 Days | 30 Days |
| Certificate Authority Review | Read Reviews | Read Reviews | Read Reviews | Read Reviews | Read Reviews |
| Read More | Read More | Read More | Read More | Read More | Read More |
| Buy Now | Buy Now | Buy Now | Buy Now | Buy Now | Buy Now |
Wildcard SSL Certificate Installation Guide & Tools
Top Wildcard SSL Brands & Comparison